New Interview with Voices of Ruin!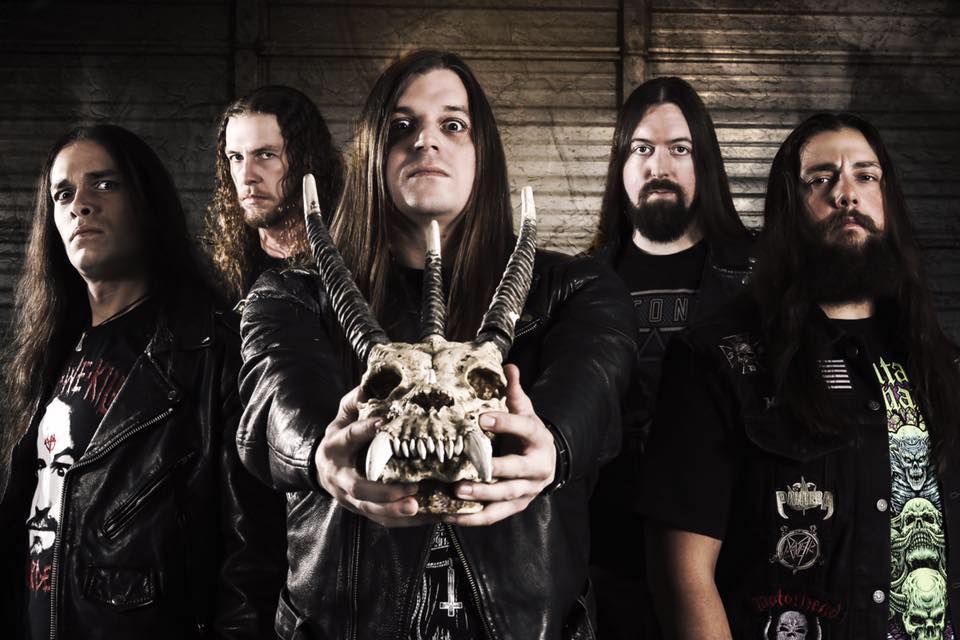 "Born of the Dark" is hands down the best death metal album I've heard in a long, long time. Combining melodic intros with death metal riffing, black metal blastings and some of their own flavor, Voices of Ruin have created the recipe for a bloody good death metal album. Putting this in to words is damn near impossible. The sound on "Born of the Dark" has that feeling of being something equal parts familiar and fresh. I just know that when I listened to this release that I was totally and completely blown away by what was carried in to my ears." --Greg Watson
On their latest release, Voices of Ruin combines elements of European melodic death metal and classic heavy metal with some US West Coast thrash and a bit of black metal. All of it made for a killer independent release that's somewhat removed from the pure metal genres. But hybrid sounds often shake our expectations and evolve our listening experience. Greg had a chance to chat with vocalist Dave Barrett about the new release "Born from the Dark", song crafting, criticisms, genres and sub-genres, vinyl, and "Larry".
Read his full interview here...
[Full Interview Link]
---
MORE FEATURES:
»
13 Great Black Sabbath Songs Without Ozzy or Dio!
Everybody knows who Ozzy Osbourne is--everybody. The vocalist on Black Sabbath's early classic songs "Iron man", Paranoid", "Black Sabbath" and many others has become a cultural icon across the world. He left the band at the end of the 70s and had a successful solo career of various incarnations.
...[More]
»
New Interview with Drummer Joey Muha!
It's amazing, the things you can find on YouTube if you keep searching and digging. Some nights, I can sit on my couch and click so deep in the videos, that I end up watching things completely different than what I started watching. That's how I ended up watching Joey Muha's metal drum rendition of "The Wheels On The Bus".
...[More]
»
Escaping the Extreme: The Non-Metal Moments
We've all experienced it...that moment where metal no longer is a reason to rise and exist each day. Granted those moments are few and far between, but at some point our brains need that wine and dine, all-inclusive resort for some rest and relaxation.
...[More]
»
New GHOST Concert Report!
On May ninth, Ghost descended upon Richmond and brought their unique stage show and massive presence to the Virginia Commonwealth. As the stage was set up for the evening's headliners, GHOST, to take the stage, the air became positively electric as the crowd eagerly awaited sightings of Papa and the Ghouls.
...[More]
»
Reminiscing on 90s HuH Magazine!
It's 1994. Alternative and grunge rock rules the US. Flannel is the new spandex. Hair product is exiled. Lyrically, no one wants to rock and roll all night. It's the age of spoiled kids croaking in a rocker about boredom. By then, I've invested time and money into the metallic arts which are back underground and far from dead.
...[More]
»
H.P. Lovecraft Special Edition Vinyl Reviews
2015 marked the 125th anniversary of the life of H.P. Lovecraft. The famed horror and science fiction author is considered a pioneer for the genre with countless forms of media inspired by his dark and vivid imagination. With comics, movies and television relying heavily on Lovecraft literature, heavy metal has always maintained a unique fascination with the author.
...[More]
»
Futureal – A Look at Virtual Reality in Metal!
I can remember as far back as the late 80s hearing the term "virtual reality". At the time visual storytellers like George Lucas ('Star Wars'), Steven Spielberg ('E.T.') and Robert Zemeckis ('Back to the Future') showcased future worlds where technology drastically modified mankind's existence.
...[More]