New Interview with Kosta Bayss of Episcopal Holocaust!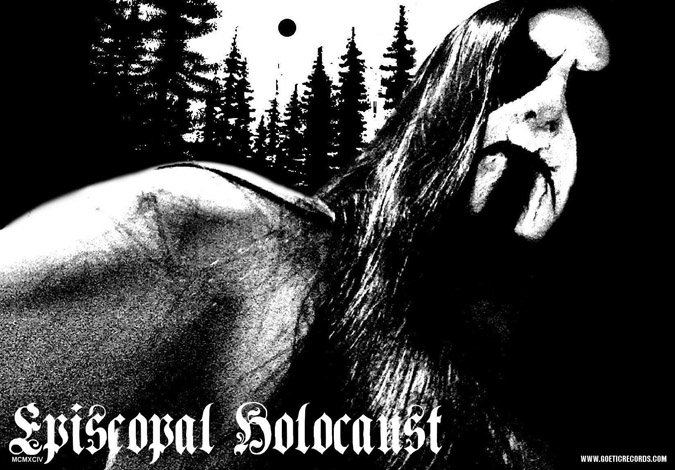 Many have sold their soul for rock and roll. This guy wouldn't sell his for shit.
Goetic records, the home to Emperor of Myself (Greece), Margg (Persia/Ukraine), Northern Bastards (Ukraine), Upon Shadows (Finland/Uruguay), Wölfrider (Poland), and his own projects APVTH and Episcopal Holocaust, was born from refusal to conform and a self-serving idea that has become a more selfishly generous platform than he anticipated. About the time when Black Metal began to blossom from its poison roots on the counter-continent of Eastern Europe, Bayss was making his own brand of mayhem.
"
I've accepted my fate that I may very well die in obscurity and I've accepted it. I'm happy with it....
" He adds, "
Maybe after I'm dead, someone would like what I've done but, that's what keeps me going. That's what Goetic Records is to me. I'm building a temple of my stuff that hopefully, somebody will find and appreciate.
"
Covering topics like his early years, music on the cheap, and the dissonance of selling yourself, read T. Ray Verteramo's full interview here…
[Full Interview Link]
---
MORE FEATURES:
»
Metal Styles Charted Against Listener Reaction!
Every now and then, some of my non-metal friends ask me what I'm listening to. Here's an ascending chart of how the music style influenced the listeners' reactions. It's fairly predictable, but Glam wins out as the friendliest where Black and Death tie for the most horrific reactions of this non-scientific study of hard rock and metal styles plotted against listener reaction.
...[More]
»
New Interview with Beartooth!
Red Bull Records recording artist Beartooth were one of the many performers slated for this year's "Welcome to Rockville" festival in Jacksonville, FL. The event, now in its fifth year, sold out once again with 50,000 paid attendees over the April 25th and 26th weekend.
...[More]
»
Interview with Jens Hafner of Killer Metal Records!
As more and more bands appear on the radar from all over the globe, a trend has begun. Younger bands are circling back to the original heavy metal sound. The birth of New Wave of Traditional Heavy Metal began ten to twelve years ago and continues to expand and evolve month after month.
...[More]
»
New Interview with Shattered Sun!
Victory Records recording artist Shattered Sun were one of the many performers who earned a coveted spot at Jacksonville, Florida's "Welcome to Rockville" mega-fest. The two day event sold out with 50,000 metal maniacs converging upon four stages for their measured dose of heavy metal and hard rock.
...[More]
»
Sepultura: "30 Years and Conquering"
Interview with Andreas Kisser!
Stemming from a world better known for its exotic birds and beaches, resilient indigenous people, and class dissention than its Metal, and then vying for a place among the British and American giants in the 80s, Sepultura emerged against the odds. But, the explosion of "Arise" in 1991 marked their place for good, earning the respect that stamps their passports and still enjoy today, though the respect may be more for the volume than the music.
...[More]