Ex-Y&T Drummer Leonard Haze...Our Best Of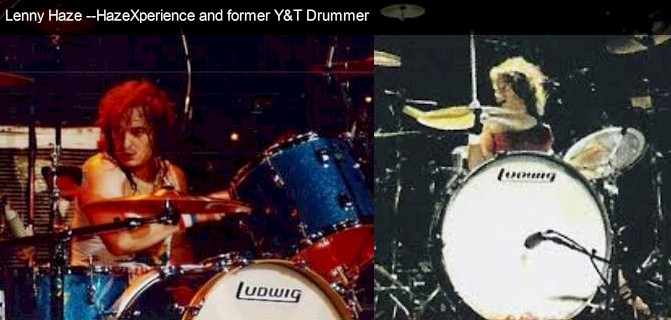 In 1974, Leonard Haze was a founding member of the hard rock band known as Y&T (formerly Yesterday & Today). Many rock connoisseurs consider the group's early 80s albums--"Earthshaker", "Black Tiger" and "Mean Steak", as groundbreaking triumphs of US hard rock. Lenny also played drums for successful acts like Ronnie Montrose and Ian Gillan (Deep Purple, Black Sabbath).
Lenny passed away September 11, 2016 at age 61 after battling chronic obstructive pulmonary disease (COPD) for several years. Maximum Metal was fortunate enough to have a personal friendship with Lenny over the past few years. We had intended to create a series of posts with his stories and experiences, but with his passing we are presenting the best of them in one full tribute column.
Highlights include a full description of his drum kit setup, his biggest influences, favorite guitarists and more.
Read our tribute column here:
[Full Column Link]
---
MORE FEATURES:
»
New Interview with Ingo Powitzer--
Guitar Tech with the Scorpions
The Scorpions are currently celebrating their 50th anniversary with a worldwide tour. Locations include: China, Japan, North America, Europe and even Australia will see them for the first time to play down under this year.Is it as glamorous as it might seem to be touring the world with one of the most iconic German Hard Rock bands? It can be, but it also takes time, dedication and a lot of sweat.
...[More]
»
Headbanger's Ball Tour 2016
Wow, when was the last time you saw this logo? MTV's "Headbangers Ball" aired its first episode on April 18, 1987. Since then the show has existed in some variation via networks or online programming. Its prime time was the 1987 through 1995 period when it routinely aired around midnight every Saturday night.
...[More]
»
New Interview with Voices of Ruin!
"Born of the Dark" is hands down the best death metal album I've heard in a long, long time. Combining melodic intros with death metal riffing, black metal blastings and some of their own flavor, Voices of Ruin have created the recipe for a bloody good death metal album.
...[More]
»
13 Great Black Sabbath Songs Without Ozzy or Dio!
Everybody knows who Ozzy Osbourne is--everybody. The vocalist on Black Sabbath's early classic songs "Iron man", Paranoid", "Black Sabbath" and many others has become a cultural icon across the world. He left the band at the end of the 70s and had a successful solo career of various incarnations.
...[More]
»
New Interview with Drummer Joey Muha!
It's amazing, the things you can find on YouTube if you keep searching and digging. Some nights, I can sit on my couch and click so deep in the videos, that I end up watching things completely different than what I started watching. That's how I ended up watching Joey Muha's metal drum rendition of "The Wheels On The Bus".
...[More]
»
Escaping the Extreme: The Non-Metal Moments
We've all experienced it...that moment where metal no longer is a reason to rise and exist each day. Granted those moments are few and far between, but at some point our brains need that wine and dine, all-inclusive resort for some rest and relaxation.
...[More]
»
New GHOST Concert Report!
On May ninth, Ghost descended upon Richmond and brought their unique stage show and massive presence to the Virginia Commonwealth. As the stage was set up for the evening's headliners, GHOST, to take the stage, the air became positively electric as the crowd eagerly awaited sightings of Papa and the Ghouls.
...[More]
»
Reminiscing on 90s HuH Magazine!
It's 1994. Alternative and grunge rock rules the US. Flannel is the new spandex. Hair product is exiled. Lyrically, no one wants to rock and roll all night. It's the age of spoiled kids croaking in a rocker about boredom. By then, I've invested time and money into the metallic arts which are back underground and far from dead.
...[More]