"Beginnings & Influences": New Video Interview with Symphonic Metal Band Seven Spires!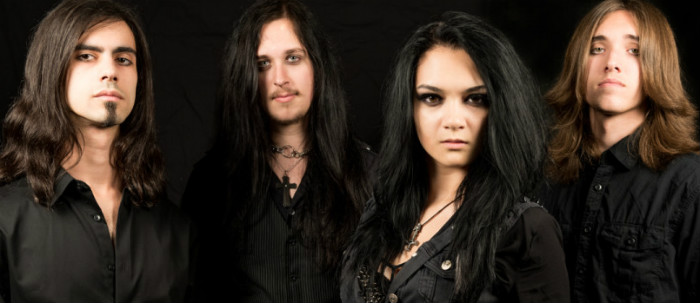 The Seven Spires story started in 2013, when vocalist Adrienne Cowan and guitarist Jack Kosto met while both were attending Boston's prestigious Berklee College of Music. Since then, the band has garnered an ever-growing reputation for both their exciting live shows and the meticulously crafted symphonic metal sound heard on their self-released 2014 EP "Cabaret Of Dreams."
Now, the band is preparing to release its first full-length album, an expanded version of "Cabaret." According to the band, the album will feature re-recordings of all of the EP material, plus newer songs that continue the story told on the EP.
This is the first of two video interviews Maximum Metal conducted with the band, in which Cowan and Kosto tell us about the beginnings of the band and the varied influences that have shaped their unique take on symphonic metal...
[Full Interview Link]
---
MORE MM FEATURES:
»
The Building of a German Powerhouse:
A Look at AFM Records
My first experience with AFM Records was in 1999. I had received a copy of Edguy's second official full-length album 'Vain Glory Opera'. The overall packaging and presentation was well above average from most CDs that were coming out at the time. A friend of mine had purchased a copy of Steel Attack's debut record 'Where Mankind Fails', another high-quality AFM release.
...[More]
»
New Interview with Black Swamp Water!
A band can appear presumptuous by titling their first album 'Chapter One'. It shows initiative and promise--the title assumes 'Chapter One' will be a success and lead to more chapters. It's a tough market to break through in Europe, even more so in the pop-friendly U.
...[More]
»
The Rise of the "New Wave of Traditional Heavy Metal"
Kids are sporting back patches, shirts and stickers of bands that reached prominence over thirty years ago--nearly two lifetimes in comparison. We are witnessing droves of young metal fans donning the classic emblems of Maiden, Motorhead, Saxon and Venom, yet delving even deeper for the tattered reminders that underground NWOBHM was just as important.
...[More]
»
New Interview with Chrome Molly!
Leicester, England's Chrome Molly formed in 1982 on the back-end of the NWOBHM movement. Their first album, 'You Can't Have It All', was released in 1985. Thankfully, the band was rejuvenated in 2010 and released their proverbial comeback in 'Gunpowder Diplomacy'.
...[More]
»
On the Horizon: 5 Bands to Watch in 2017!
Heavy metal and hard rock isn't an unexplored phenomenon. Its musical landscape is in its fifth decade, leading many to wonder just how many stones are truly left unturned. The two genres have been expanded into countless hybrids, offshoots and sub-genres that leave even experienced fans like myself a bit overwhelmed.
...[More]
»
New Interview with Blitzkrieg!
Who can doubt Blitzkrieg's influences on the early days of heavy metal, notably the stylistic movement that showcased the next phase of Birmingham's pounding metal--the New Wave of British Heavy Metal (NWOBHM). Blitzkrieg formed in Leicester, UK in 1980 and soon released three demos.
...[More]
»
Staff Top Three Hard Rock/Heavy Metal Love Songs!
Rarely is love the subject matter of heavy metal where death and destruction play primary roles.The simple answer may be that the qualities we tend to see with love are incongruent with the way we picture the heavy metal environment and themes. Love is connective and nourishing.
...[More]
»
New Interview with Black Oak County!
Denmark's Black Oak County are a heavy four-piece that slide perfectly into that niche between hard rock and heavy metal. The band formed in Esbjerg in 2012 and released their self-titled debut album in January courtesy of Mighty Music (Tygers of Pan Tang, Sea).
...[More]
»
A 90s Look at the Albums Metallica Should Have Made
The 1991 -1996 period for Metallica fans was pure anguish.That five-year period between Metallica albums wasn't a fair one. The lofty expectations were ultimately going to lead to disappointment even if 'Load' was far better than it was. It's just human nature.
...[More]