New Interview with Drummer Joey Muha!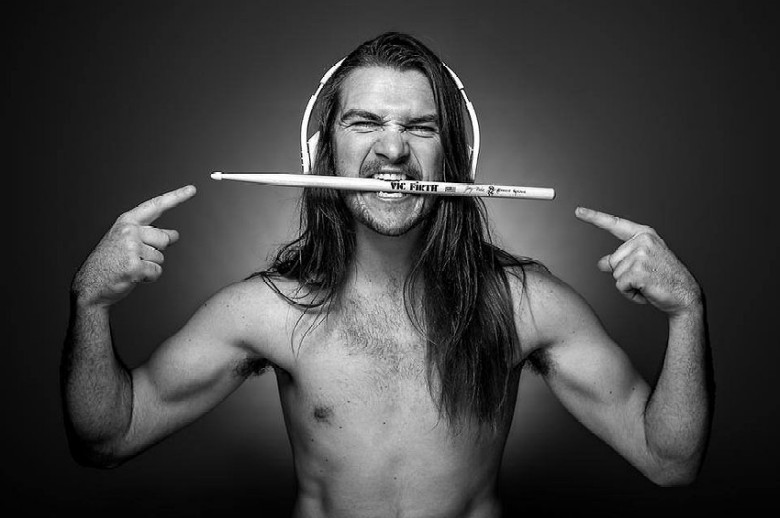 It's amazing, the things you can find on YouTube if you keep searching and digging. Some nights, I can sit on my couch and click so deep in the videos, that I end up watching things completely different than what I started watching. That's how I ended up watching Joey Muha's metal drum rendition of "The Wheels On The Bus". From that point, I ended up watching an hours worth of Joey Muha videos as he slayed traditional kids tunes, cartoon & TV show theme songs, as well as current pop hits, by putting a thrash/death metal spin on them. I even subscribed to his channel so that I could see his new videos ASAP. I was hooked! As it turns out, Joey Muha has drummed for Threat Signal & Jungle Rot and is currently the drummer for Toronto-based LITEYEARS. I recently got the pleasure to interview Joey to find out about his current whereabouts, his fun videos, and what sparks his creativity.
Read David Loveless' full interview here…
[Full Interview Link]
---
MORE FEATURES:
»
Escaping the Extreme: The Non-Metal Moments
We've all experienced it...that moment where metal no longer is a reason to rise and exist each day. Granted those moments are few and far between, but at some point our brains need that wine and dine, all-inclusive resort for some rest and relaxation.
...[More]
»
New GHOST Concert Report!
On May ninth, Ghost descended upon Richmond and brought their unique stage show and massive presence to the Virginia Commonwealth. As the stage was set up for the evening's headliners, GHOST, to take the stage, the air became positively electric as the crowd eagerly awaited sightings of Papa and the Ghouls.
...[More]
»
Reminiscing on 90s HuH Magazine!
It's 1994. Alternative and grunge rock rules the US. Flannel is the new spandex. Hair product is exiled. Lyrically, no one wants to rock and roll all night. It's the age of spoiled kids croaking in a rocker about boredom. By then, I've invested time and money into the metallic arts which are back underground and far from dead.
...[More]
»
H.P. Lovecraft Special Edition Vinyl Reviews
2015 marked the 125th anniversary of the life of H.P. Lovecraft. The famed horror and science fiction author is considered a pioneer for the genre with countless forms of media inspired by his dark and vivid imagination. With comics, movies and television relying heavily on Lovecraft literature, heavy metal has always maintained a unique fascination with the author.
...[More]
»
Futureal – A Look at Virtual Reality in Metal!
I can remember as far back as the late 80s hearing the term "virtual reality". At the time visual storytellers like George Lucas ('Star Wars'), Steven Spielberg ('E.T.') and Robert Zemeckis ('Back to the Future') showcased future worlds where technology drastically modified mankind's existence.
...[More]
»
New Iron Maiden "Book of Souls" Tour Pics!
On February 24th, the Jedi knights of Metal, Iron Maiden, kicked off a world tour to shame all others. Their latest release not only surpassed fan expectations, but sales as well, performing "50 percent better than any other previous release," according to Bruce Dickinson.
...[More]
»
New Video Interview with The Fine Constant
Madison, Wisconsin-based guitarist Sarah Longfield's career began as a YouTube phenomenon when, still in her teens, she began posting videos of herself covering works by All Shall Perish, Lamb of God and others. Over the next few years, covers led to original compositions and a growing fanbase, so Longfield eventually decided to put together a band to perform her music on tour.
...[More]