New Interview with Amoral!
Posted on 11/21/2014 5:29:39 PM by Frank H.





Having lived in Finland for almost 3 years I have been fortunate to be placed into a position to meet a lot of the metal bands this country is known for throughout the world. One such band is the prog/classic rock band Amoral who I was fortunate enough to see live last summer in Helsinki at the famous Tuska Metal Festival. I found the band to have a strangely unique and entrancing sound and their new album 'Fallen Leaves and Dead Sparrows' is a great listen that just a lover of music in general would enjoy. Having a career that has spanned 10 years with style changes, I find Amoral one of the more interesting bands coming out of Finland and also one the most talented.

Guitarist Ben Varon was kind enough to take a few minutes out of his busy schedule and answer some questions for Maximum Metal's TJ Fowler...[Full Interview Link]



New Astral Doors Interview!
Posted on 11/21/2014 5:26:55 PM by Frank H.





For eleven years Sweden's Astral Doors have symbolized the bold essence of traditional heavy metal. With a sound reminiscent of our forefathers like Sabbath, Deep Purple and Rainbow, the band has achieved global success through seven full-length albums. The band's newest, "Notes from the Shadows", is another treasure in the band's illustrious career. Troy Cole spoke with Nils Patrik Johansson about the new album and the group's storied success...[Full Interview Link]



New Interview w/ Jason McMaster of United Evil, Dangerous Toys, Watchtower, and Ignitor
Posted on 11/14/2014 3:38:51 PM by Frank H.




The industry deems Jason McMaster the King of Texas metal. I think that epithet rings loud and clear considering the man's work in and out of the Lone Star. Whether fronting the iconic Dangerous Toys, where he cut his teeth in 1987, or a host of metal bands and projects like Watchtower and Ignitor, Jason McMaster is easily recognized and identified through his charismatic voice. That talented skillset is on full display with McMaster's newest work, the sophomore album from Texas band UNITED EVIL. Troy Cole and I had the pleasure of speaking with Jason about the new album, 'Honored by Fire', and his storied history from the late 80s until now...[Full Interview Link]



The Power of Trower: New Road Report on Robin Trower
Posted on 11/14/2014 3:02:01 PM by Frank H.




It's not often that I get surprised by music these days...after more than a decade of reviewing music, attending concerts and interviewing rock stars, it takes something pretty incredible to stop me in my tracks.

That's exactly what happened at 8:15 pm November 4, 2014 in the lobby of the Carolina Theater, Durham, NC. Running late after an hour and a half drive, I was anxious to get to my seat but the sound of a guitar poured out into the lobby and I was stopped by its simplicity and perfect execution.

The performer? The legendary Robin Trower...

Read Maximum Metal contributor Kim Thore's road report with photos...[Full Column Link]



Anthrax Added to Tuska Open Air Gallery!
Posted on 11/7/2014 2:01:02 PM by Frank H.




To go with our update from yesterday, seventeen metal pics from the madhouse of Tuska Open Air Fest have been added from contributor TJ Fowler. These ain't no simple cell phone images. Check out his awesome pro shots...[Full Gallery Sets]



New Tuska Open Air Fest Gallery!
Posted on 11/6/2014 3:06:23 PM by Frank H.




Maximum Metal contributor TJ Fowler lives in Finland and had the opportunity to attend the country's biggest metal festival this year--Tuska Open Air Fest. Check out his killer pics of Carcass, Children of Bodom, Dimmu Borgir, Emperor, Ensiferum, Orphaned Land, Poisonblack, Powerwolf, Satyricon... [Full Gallery Sets]



MAXIMUM METAL MAGAZINE
HALLOWEEN BONUS SPECIAL has arrived!
Posted on 10/30/2014 4:41:44 PM by Frank H.

Maximum Metal Magazine Halloween 14 is alive in time for the night of spooks!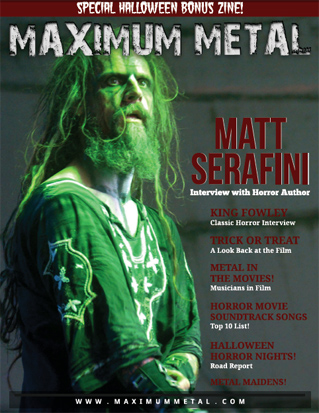 In our Halloween edition, highlights include:
• Interview with horror author Matt Serafini
• Classic horror interview with October 31/Deceased King Fowley.
• A look back at the 1986 film "Trick or Treat"
• Metal in the Movies - metal musicians in horror films
• Metal Maidens - Halloween Edition!
• Top 10 Horror Movie soundtrack songs
• Road Report from Halloween Horror Nights 24
• Cool scary metal ads

Maximum Metal magazine is available in an online format and a PDF version you can view and download.

And the issue is FREE to view and share!!!

Read it, download it, share it with your friends, print it for the monster in your closet, the ghoul under your bed, and the six personalities in your head. Send a copy to all your online social fiends in the Phantasm Dimension, at the Miskatonic University, in Europe, South America, Asia, Africa, Australia, and Antarctica! Check it out right in here...
[Magazine Page Link]



Maximum Metal's Eric Compton Launches New Heavy Metal Book Series: Denim & Letters!
Posted on 10/28/2014 2:45:52 PM by Frank H.




After nearly 1,000 written reviews, our senior editor ERIC COMPTON has launched a new alphabetical book series, "DENIM & LETTERS"!!!

This first installment, "PIECES OF A", is a mammoth collection featuring all of Compton's thorough online reviews plus additional reviews written exclusively for the book. Included are detailed commentaries from the bands represented here, from hard rock acts like ACCEPT and AMERICAN DOG to extremists like ABYSMAL DAWN and THE ARCANE ORDER. Eric has meticulously gathered over 130 reviews and over 30 interviews spanning a 15 year period from 1999-2014. This 31,000 word volume is loaded with bands describing their body of work over multiple sub-genres of heavy metal music. More on his NEW book series here...[Book info]




Archive Features >>>