New Interview with Christian Muenzner of Obscura, Spawn of Possession, Necrophagist, and Alkaloid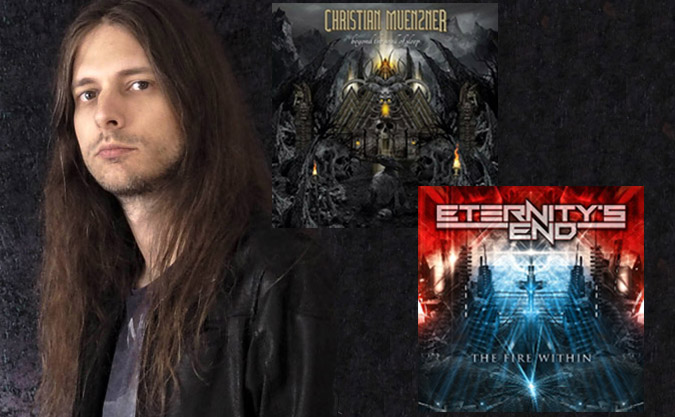 Christian Muenzner, much beloved and respected by peers and fans alike, assumes a modest, gentle presence. Searing and shredding effortlessly through various studio appearances and bands like Obscura, Spawn of Possession, Necrophagist, and latest success, Alkaloid, over the past 15 years has made him a celebrated giant, even among other giants.
This has been made especially apparent over very recent weeks when he announced his third solo project, "The Fire Within" with his new-ish solo band, Eternity's End. With Alkaloid mates, Hannes Grossmann and Linus Klausenitzer, as well as Ian Parry and Jimmy Pitts, Muenzner started a crowdsourcing campaign on Indiegogo to recoup the heavy independent costs. Within 10 days, the goal has reached nearly 60 percent, with most of the backers vying for a signed copy of the CD and the tablature book of his previous project, "Beyond the Wall of Sleep."
Muenzner's passion for his craft is only fueled with greater fervor and continues to be a light of inspiration. Christian was nice enough to speak with Maximum Metal about his various projects, the impoverished industry, music theory, and the focal dystonia that affects his playing. Read T. Ray Verteramo's full interview here…
[Full Interview Link]
---
MORE FEATURES:
»
Staff Year End Awards for 2015!
We've gathered up our thoughts on the hard rock/metal releases of 2015! Even if you really don't give a shit what any of our opinions are, there are so many releases put out in this age of do-it-yourself creation that you may see names you missed, older bands you forgot existed or unknowns to look up and sample.
...[More]
»
Lemmy Kilmister: Our Words
"Lemmy? God? Trick question, dick. Lemmy is God!" He was God because he walked the talk. There were no skeletons in his closet. Hell, he had no closet, he just wore everything on his back until it walked off his skin on its own. He was what he was, what you saw was what you got.
...[More]
»
New Interview with Jill Janus of Huntress!
Jill Janus has other priorities to spend her energy on than socio-politics.When it comes to matters of life and death, art and challenges, she has more than her share. Taking her passions to the extreme in voice and performance, as the frontperson of Huntress, she has unabashedly stepped up to a huge plate, earning herself respect among fans and peers.
...[More]
»
"Youth & Maturity": Interview with MAX PORTNOY of Prog Metal NEXT TO NONE
The Oxford English Dictionary defines prodigy as "A person, especially a young one, endowed with exceptional qualities or abilities." If Next to None doesn't fit that bill to a T, I don't know another band out there that would. A four piece outfit based out of Pennsylvania, no band member is over the age of 18 and yet their sound is incredibly mature and well-thought out for such a group of young gentlemen.
...[More]
»
New Concert Report: Ghost!
Halloween/Samhain is the time to pay homage for those who wander beyond the mortal veil. For most of western civilization, it's time to dress up and mess up. But, for Las Vegas, it was time to go to church.Ghost's gimmick as the orthodox clergy of Satan is so over-the-top, it incites either love or hate.
...[More]
»
Halloween Special: Our Exclusive Reprint Interview with Horror Author Matt Serafini!
I've always loved slasher movies. The combination of likeable young characters, isolated and atmospheric environments, crazed killers and, hopefully, awesome gore FX really captured the attention of my younger self. As an adult, I've got a lot of nostalgia for those movies, but you can't fill 300 pages with people wandering into the woods and dying, so I wanted to take those classic elements and weave them into a more complex narrative.
...[More]