MAXIMUM METAL MAGAZINE
HALLOWEEN BONUS SPECIAL has arrived!
Posted on 10/30/2014 4:41:44 PM by Frank H.

Maximum Metal Magazine Halloween 14 is alive in time for the night of spooks!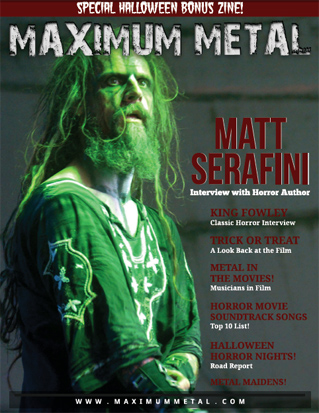 In our Halloween edition, highlights include:
• Interview with horror author Matt Serafini
• Classic horror interview with October 31/Deceased King Fowley.
• A look back at the 1986 film "Trick or Treat"
• Metal in the Movies - metal musicians in horror films
• Metal Maidens - Halloween Edition!
• Top 10 Horror Movie soundtrack songs
• Road Report from Halloween Horror Nights 24
• Cool scary metal ads

Maximum Metal magazine is available in an online format and a PDF version you can view and download.

And the issue is FREE to view and share!!!

Read it, download it, share it with your friends, print it for the monster in your closet, the ghoul under your bed, and the six personalities in your head. Send a copy to all your online social fiends in the Phantasm Dimension, at the Miskatonic University, in Europe, South America, Asia, Africa, Australia, and Antarctica! Check it out right in here...
[Magazine Page Link]



Maximum Metal's Eric Compton Launches New Heavy Metal Book Series: Denim & Letters!
Posted on 10/28/2014 2:45:52 PM by Frank H.




After nearly 1,000 written reviews, our senior editor ERIC COMPTON has launched a new alphabetical book series, "DENIM & LETTERS"!!!

This first installment, "PIECES OF A", is a mammoth collection featuring all of Compton's thorough online reviews plus additional reviews written exclusively for the book. Included are detailed commentaries from the bands represented here, from hard rock acts like ACCEPT and AMERICAN DOG to extremists like ABYSMAL DAWN and THE ARCANE ORDER. Eric has meticulously gathered over 130 reviews and over 30 interviews spanning a 15 year period from 1999-2014. This 31,000 word volume is loaded with bands describing their body of work over multiple sub-genres of heavy metal music. More on his NEW book series here...[Book info]



New Interview with Morean of Dark Fortress!
Posted on 10/24/2014 4:32:27 PM by Frank H.




This 20-year old band, though flawless through the speakers, has its share of battle scars. With seven full album releases, two compilations, two split/demos, and a line-up change along the way, they still relentlessly push through the sludge of a bleeding industry with years of setups and setbacks, each "whoring" themselves to multiple projects to support the one. Yet stubbornly, they remained completely unwilling to compromise on the project's integrity.

Read T. Ray Verteramo's full interview with Morean of Dark Fortress covering the new release, musician respect, tour challenges, and preferring his own brand of bullshit...[Full Interview Link]



Our Classic NWOBHM Column: Made in England 5 - Bashful Alley "Running Blind"!
Posted on 10/23/2014 2:25:05 PM by Frank H.




The oddly named Bashful Alley came about when Staffordshire natives Rob Tidd (guitar) and Ian "Truff" Threlfall (bass) decided to form a band while studying at Lancaster University. While both had prior experience with small bands in the late 70's, it would take the vocal ability of Dave Slamen and Donkey behind the drum kit to solidify the very first Bashful Alley line up. Yes, they found a drummer named Donkey. More from Josh Greer on Bashful Alley here...[Full Column Link]



New Interview with Steve "Zetro" Souza of Thrash Legends Exodus!
Posted on 10/10/2014 2:45:34 PM by Frank H.




Steve "Zetro" Souza makes absolutely no pretenses when it comes to Exodus' raging return -- probably because there's no need to. It's Exodus in every sense, which every thrash fan would perfectly understand. From the first riff to the last scream, their latest release, "Blood In, Blood Out," delivers the same bone-splitting dish on a truly beautifully produced plate, better than they ever did over 30 years ago. And that is something to brag about. There are no ballads, no epics, no trills, no frills, just 100% pure, as Zetro puts it, "Scrap music for when you're really pissed off."

Read T. Ray Verteramo's full interview with Steve...[Full Interview Link]



New Tales from the Jugular #125
Breaking the Speed of Sound
Posted on 10/6/2014 2:13:10 PM by Greg Watson




It's no secret that metal is fast, loud and adrenaline producing music. I'm sure all of us have been behind the wheel at some point or another blasting our latest purchase, only to look up and see those flashing red and blue lights behind us or noticing that our mph has just crept up over 100. That being said, I compiled a list of personal songs that I could easily break the speed barrier to...[Full Column Link]



T.J. Martell Foundation Celebrity ROCK 'N' BOWL Tournament this Thursday!
Posted on 10/6/2014 8:48:09 AM by Frank H.




Los Angeles, California (August 19, 2014) - The T.J. Martell Foundation has announced The Celebrity ROCK 'N' BOWL, a fundraiser that combines the competitive sport of bowling with high energy entertainment and celebrity appearances to raise funds for cancer research. The event is chaired by Wendy Dio, President and Co-Founder of the Ronnie James Dio Stand Up and Shout Cancer Fund, who serves on The T.J. Martell Foundation Board and whose organization has raised and donated funds to the T.J. Martell's continuing efforts in cancer research.

The event will take place at the Pinz Bowling Center on Thursday, October 9th, 2014 from 7:30pm-11pm, with a VIP Pre-Party from 7:00pm-8:30pm. Pinz Bowling Center is located at 12655 Ventura Blvd in Studio City. The T.J. Martell Foundation aims to combine music and entertainment with an event that will drive competition to raise funds for its core mission of finding a cure for leukemia, cancer and AIDs.

To purchase a ticket, register a team/sponsor a lane, or other sponsorship opportunities for ROCK 'N' BOWL go to support the foundation can also buy tickets to attend at the websites noted. More information is also available at www.tjmartell.org.



New Interview with Gregg Fox of the
Renaissance Rock Orchestra
Posted on 9/15/2014 2:31:24 PM by Eric




Standing tall as a figure who has seen the world, but no longer carries the weight of it upon his shoulders, Gregg Fox is at home here among the rockers, just as he is among the many other swingers and the stingers. "Gun for hire," Fox has made a name for himself through other names from other names -- sharing the stage, but never the spotlight – with the likes of Heart, Asia, Bad Company, Billy Idol, Slash, Queensryche, Quiet Riot, Alice Cooper, Toto, Yes, Pantera, AC/DC, Michael Schenker Group, Iron Maiden, Ozzy Osbourne, just to name a few. And though his many, many mercenary meanderings have allowed him to make a 30-year life-long career for himself after achieving a prestigious music degree, he realized it is time to for the wizard to come out from behind the curtain. T. Ray Verteramo was able to speak with Gregg about his own project--The Renaissance Rock Orchestra... [Full Interview Link]




Archive Features >>>