Behemoth
The Satanist

Company: Metal Blade
Release: 2014
Genre: Black
Reviewer: Skullbone
Really well-crafted

Well, "The Satanist" finally dropped. The highly anticipated new album from Behemoth had been delayed at one point but now it is finally here. I know there has been a lot of anticipation for this album in the metal community and though I cannot claim to be a Behemoth acolyte, I always thought from an imagery perspective (i.e. The 'Blow Your Trumpets Gabriel' video is fantastic and should be an art noir horror movie) they had a great artistic style and I always viewed their stuff with admiration. With that being said can a non black metal guy like me appreciate what "The Satanist" has to offer?
In many ways yes I can.
I never could get into the black metal genre much. As much as I really wanted to I never could grasp the musical aspect of the genre. That doesn't mean I still do not try. What better way to jump in than with a Behemoth album as they are considered one of the cornerstones of the genre. So the big question is, "Was I able to find merit in "The Satanist"? Not only that, was there anything enjoyable for someone such as me on the album?
It was a mixed bag. There is definitely the classic black metal styling here--the razor cutting vocals, the cacophony of noise and a general hatred black metal seems to try and spew forth. On the plus side, when the album got to "The Satanist", and the songs after, I found it really well-crafted with slow interludes and well-arranged guitar work that branched out of the normal black metal trappings. I applaud Behemoth for this and any band trying to stretch their wings and still remain true to what they set out to be.
While "The Satanist" is still firmly rooted in black metal I found it also had things that appeal to me as well. I think Behemoth crafted a really great album and it is one they should be proud of in many ways. Go blow your trumpets to that!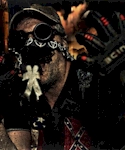 About this Writer:
TJ Fowler
// Originally from the dark Cumberland Plateau of Tennessee, TJ now makes his home in the frozen wastes of Finland. While Chronicling the diabolic music scene in Scandinavia with his photography and reports, TJ also likes to travel with his camera to mysterious European locations to discover what horrors may lurk in the unknown crevices lost to the mists of time.
Maximum Metal Rating Legend - Click for Full Details
All reviews for Behemoth:
---
All interviews for Behemoth:
| | | | |
| --- | --- | --- | --- |
| INTERVIEW | BAND | INTERVIEWER | DATE |
---
You may also like: