Born of Fire
Dead Winter Sun

Company: Pure Steel
Release: 2014
Genre: Traditional, progressive
Reviewer: Frank Hill
A stout release

Born of Fire paints a picture of a frozen wasteland on the cover of their new release. It could be metaphoric for the ten years the band has been dormant before recently finding the internal fire to return with Dead Winter Sun. It's a long time to be away, but not unheard of with underground metal. Something inside compels a musical creativity to rise again.
Dead Winter Sun is a stout release of traditional heavy metal with enough progressive elements to be intriguing, yet not incoherent to the classic headbanger. The guitars are beefy, but it never gets ponderous under its heft thanks to some strong emotive solos ("Last Goodbye") and the addition of strings and natural keyboards. The punchy downbeat rhythms of "When Hope Dies" and aggressive, machine gun riffs of "In A Cold World" elevate it out of the pessimistic introversion it sometimes treads toward. A couple more neck snappers like those would have been to my taste, but DWS flows pretty consistently as it is. "Speed of Dark" stands out as an ominous instrumental. It almost has a dark holiday feel with its chimes and drums.
New addition Gordon Tittsworth's vocals cover a wide range from deep spoken passages to John Arch/Geddy Lee heights with his mid-range the strongest here. Prior work with his own band, Images of Eden, tended to stay in the upper register, so I'd assume his other work-for-hire with Guatemalan band Dread the Forsaken brought on the vocal expansion.
The theming, largely from the lyrical content, is dark enough that DWS left me with an overall feeling of suspension; a hanged man waiting to see if his rope will give or break. The album mood walks the edge of being defeatist, but within the cold there are flickers of guiding light--keyboards in the title track that signify hope and resurgence, vocals that soar in "Echoes of the Lost", and the gentle closing moments of "Tears".
What do you do when hope feels lost? You look inside and rediscover what brought you happiness before, like a band who is back on the scene and hungry after a decade-long hibernation. For fans of Nevermore, Fates Warning and mid-era Queensryche with a small rounding up of my rating for indy effort and passion.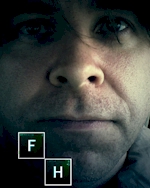 About this Writer:
Frank Hill
// Frank Hill has been at this site since its slimy, crying birth in '03. He was born on National Metal Day--11/11 and will turn his hearing aids up to 11 when he's 111. He secretly listens to a lot of old Country and Doo-Wop tunes and wants to start a cyberband with lead vocals by Robot Plant. He is still trying to figure out what Judas Priest meant by "paratamize you". If you read this, then he salutes you.
Maximum Metal Rating Legend - Click for Full Details
All reviews for Born of Fire:
---
All interviews for Born of Fire:
---
You may also like: