Burden Of Grief
Follow The Flames

Company: Massacre Records
Release: 2010
Genre:
Reviewer: EC
Furious monster grooves and the injection of soaring melodies

Burden Of Grief have been active for fourteen years now. It seems like just yesterday I heard a sampling of the band's debut "Haunting Requiems" (2000). Since then the group have been a melodic death mainstay, constantly delivering quality albums and gaining new fans in the process. Thus far the German act have provided most of their studio releases for underground label Remedy Records. The band released an album for Massacre Records back in 2001 and now, nine years later, return to the label with new entry "Follow The Flames". This is a stout melodic death outing that shows off the band's "meat and potatoes" with plenty of high octane riffs, massive groove and a backbone of melody.
The band have worked with great producers in Tommy Hansen and Andy Classen in the past and now bring on another quality producer in Dan Swano (Bloodbath, Edge Of Sanity). It is interesting to hear Swano work with the group considering how important Swano is to the Swedish death genre. Burden Of Grief place themselves amidst the melodic Swedish death sound and Swano pairing with the band is a perfect marriage. This chemistry really highlights that abrasive sound, backed by furious monster grooves and the injection of soaring melodies.
Long time fans will find plenty to like here with the band crafting the same sort of songs found throughout "Fields Of Salvation" and "Death End Road". The furious speed numbers are still intact and the Germans rely heavily on melodic structure, often placing soaring solos and interludes in the midst of backbreaking riffs. I really like the production and the guitar tone, almost a "re-imaging" of those early Swedish albums. Arch Enemy, At The Gates and early In Flames is still where Burden Of Grief place in terms of compare and contrast theory. Obviously the act have forged their own way and created an illustrious career but one can definitely hear the influence of that famed Gothenburg sound, a remarkable amount of energy and finesse that speaks volumes in today's complacent "metalcore" environment.
The Bottom Line - "Follow The Flames" is the best of Burden Of Grief. This is a classic reunion with Massacre Records and a record that should please fans of Arch Enemy, Witchery and At The Gates. These Germans understand Swedish melodic death metal more than most Swedes! This is highly recommended and a nominee for my best death metal album of 2010!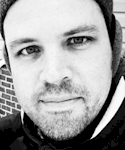 About this Writer:
Eric Compton
// Eric Compton lives in the most haunted city in the world, St. Augustine, Florida with his family and two yorkies. He has served as senior editor for MaximumMetal.com for nearly 10 years and is the author of the heavy metal book series--Denim & Letters. His reviews, interviews and social commentary has been featured on websites like Brave Words, Blabbermouth, Metal Temple, Metal Rules, Ultimate Metal, Metal Maniacs and Wikipedia.
Maximum Metal Rating Legend - Click for Full Details
All reviews for Burden Of Grief:
---
All interviews for Burden Of Grief:
| | | | |
| --- | --- | --- | --- |
| INTERVIEW | BAND | INTERVIEWER | DATE |
---
You may also like: