Black Stone Cherry
Kentucky




Company: Mascot
Release: 2016
Genre: Hard Rock
Reviewer: Eric Compton


Catchy enjoyable songs

In 2006, vocalist/guitarist Chris Robertson opened the debut album with "Here comes the rain!" Truer words have never been spoken. The Southern rock act have had eight singles chart on US Mainstream Rock and globally toured for ten years or more. The band even had country sensation Florida Georgia Line cover their track "Stay" and land it at number one on the US Country charts. The act have released four records from 2006 to 2014, all via Roadrunner Records. Now the new album, 'Kentucky', sees the group on a new label, Mascot, and a familiar recording studio – Barrick Recording, the KY home where they recorded their debut album in 2006 with David Barrick.
While 'Kentucky' sees the band maturing even more, it never hesitates to rock the trusses. Opener 'The Way of the Future' condemns our war-torn violent society with a monstrous groove and some bluesy guitar hooks. The chorus of "It's the way of the future, there's nowhere to hide" leads to some positive writing and encouragement to take back control to better our situation. It's wise stuff that preaches with hook and harmony. That same sort of mentality explodes on groovy cover of Edwin Starr's "War" with it's over the top flavor ensconced in heavily distorted strings.
The band uses its Southern rock foundation on "Shakin' My Cage", its black dog howlin' lyrics matched to a scorching guitar run. "Long Ride" slows things down a bit and throws a little nod to Shinedown. "Cheaper to Drink Alone" is pure modern Nashville boogie while "The Rambler" is more grass roots country/folk with some violin and soft acoustic guitar.
Where's the heavy stuff? It's here in volumes. "Born to Die", "Hangman", "Soul Machine" and "Feelin' Fuzzy" kill it. Groovy Sabbath meets COC meets Skynyrd, much like the BSC catalog before it. It never seems to get old for these guys. It is youthful energy, good management, solid labels and a penchant for writing catchy enjoyable songs that always inspire and influence. What more could we ask for?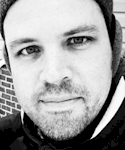 About this Writer:
Eric Compton
// Eric Compton lives in the most haunted city in the world, St. Augustine, Florida with his family and two yorkies. He has served as senior editor for MaximumMetal.com for nearly 10 years and is the author of the heavy metal book series--Denim & Letters. His reviews, interviews and social commentary has been featured on websites like Brave Words, Blabbermouth, Metal Temple, Metal Rules, Ultimate Metal, Metal Maniacs and Wikipedia.
Maximum Metal Rating Legend - Click for Full Details
All reviews for Black Stone Cherry:
---
All interviews for Black Stone Cherry:
| | | | |
| --- | --- | --- | --- |
| INTERVIEW | BAND | INTERVIEWER | DATE |
---
You may also like: