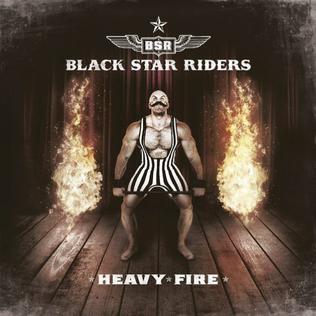 Black Star Riders
Heavy Fire
Type: CD
Company: Nuclear Blast
Release: 2017
Genre: Hard Rock
Reviewer: Eric Compton
Published:2/27/2017

Quite possibly the best active band on the planet right now
Say what you want but Black Star Riders continues to be the highest echelon of quality hard rock. Their last two albums absolutely blew me away and this one is really no different. I'm giving it just a slight nudge down to 4.5 from 5 for no reason other than maybe it's too similar to the prior records. At some point, they will need to modify the delivery slightly...but that's just me being overly critical because I have to be. From a fan stance, there's nothing to dislike here.
Like the band's 2015 gem 'The Killer Instinct', the album is once again recorded in Knoxville, TN with producer Nick Raskulinecz (Foo Fighters, Alice in Chains). Maybe it's just me but the percussion seems a bit thicker from skinsman Jimmy DeGrasso and could be just a notch higher in the mix than the prior records. The lead-off single, "When the Night Comes In", was released late last year and testifies to the spirit of the album. It's mid-tempo with Ricky Warwick's signature phrasing melded to simple riffs that explode into a big chorus. It's lively stuff that Warwick and lead guitarist Damon Johnson write so well and it's the perfect precursor to the album.
Opener "Heavy Fire" is probably one of my favorite songs, just a classic staple that is enveloped by an addictive lead right out of the gate. The verses aren't a far cry from Danko Jones and its higher energy mirrors the Canadian rocker. Love the tempo change at the 3:00 mark signaled by the bomb sirens. Brilliant touch. "Who Rides the Tiger" is one of the faster numbers and shows Warwick with a little more spoken-word delivery before harmonized vocals carry the bridge and chorus work into higher range. Some early praise has gone out to "True Blue Kid", a really cool bluesy track that is very Thin Lizzy. My favorite song is the slower "love gone astray" cut "Cold War Love". The band has always had a penchant for war songs and this one changes it slightly by making love the epic struggle. "Why don't you come back to the war...our love is worth fighting for" deploys lyrics right into the ultimate battlefield--the broken heart.
I'm not terribly convinced there is a better active band out there today. That's saying a lot considering how many great bands are releasing stellar albums while still doing active tours. I know that fans still want to see Black Star Riders members perform as Thin Lizzy, yet it's hard to shuck the importance of Black Star Riders being themselves. This is a phenomenal band that simply won't be held back. I'm all in...when's the next album hitting?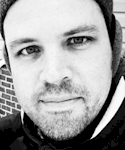 About this Writer:
Eric Compton
// Eric Compton lives in the most haunted city in the world, St. Augustine, Florida with his family and two yorkies. He has served as senior editor for MaximumMetal.com for nearly 10 years and is the author of the heavy metal book series--Denim & Letters. His reviews, interviews and social commentary has been featured on websites like Brave Words, Blabbermouth, Metal Temple, Metal Rules, Ultimate Metal, Metal Maniacs and Wikipedia.
Maximum Metal Rating Legend - Click for Full Details
All reviews for Black Star Riders:
---
All interviews for Black Star Riders:
| | | | |
| --- | --- | --- | --- |
| INTERVIEW | BAND | INTERVIEWER | DATE |
---
You may also like: