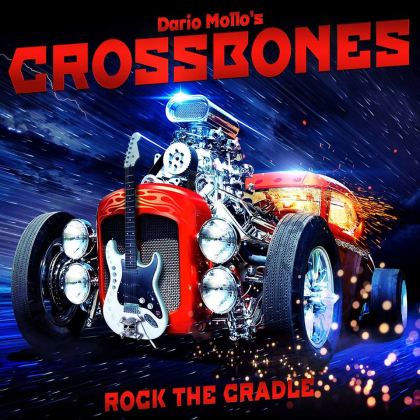 Crossbones
Rock the Cradle
Type: CD
Company: Frontiers
Release: 2016
Genre: Hard Rock
Reviewer: Eric Compton
Published:2/16/2017

Guitar oriented heavy hard rock from Italy
Dario Mollo is a talented musician that you don't instantly recognize...but he's been an accessory or key contributor to a number of high-profile album releases. Mollo formed the band Crossroads in 1981 (originally known as Fireball as early as '78) and released a debut album, 'Crossroads', in 1989. The record was produced by Kit Woolven (Thin Lizzy, UFO, Magnum) and led to some success in Europe.
Ten years later the Italian artist teamed with former Black Sabbath singer Tony Martin for 'The Cage'. The duo recorded three albums together, two of which were produced by Mollo. In 2000 Mollo aligned himself with another marquee name - Glenn Hughes (Deep Purple, Black Sabbath). The two formed Voodoo Hill and released three records. Aside from just his own projects, Mollo owns a recording studio in Italy called Damage, Inc. He has produced a number of albums from the likes of Skyclad, Anathema, Satan and Giuntini Project.
After a 27-year hiatus from recording for Crossbones, Mollo has once again fired up the engine to release this new studio record entitled 'Rock the Cradle'. Joining him is vocalist Carl Sentence, a journeyman in his own right known for stints with Persian Risk, Nazareth, Krokus and Geezer Butler to name a few. Mollo recorded and produced the album and it's released courtesy of Frontiers Records.
These ten tracks weigh just over 45-minutes total. The average length of song is around four-minutes with the longest being "Gates of Time" at over six-minutes. The idea of the record is not radio's mandatory three and done. Instead these trench a little more in terms of leads and jams, but still conform to an easily accessible hard rock arrangement. Opener "Red" roars out of the gate with a mid-tempo pace, huge hook and Sentence's smooth, higher register vocal style. There's enough polish on the strings to show off that 80's "bigger is better" vibe. Mollo's longtime colleague Dario Patti (Voodoo Hill, The Cage) lays down bass and keys, the latter fairly consistent throughout.
The first half of the album is a good mix of faster stuff (opener "Red", "Take Me High") while larger, groove oriented tracks pound it out ("Navigation", "Rock the Cradle"). The album's fifth track, "Gates of Time", is a more epic, keyboard friendly cut that's made better by some neo-classical stylings from Mollo. I'm not a huge fan of this song but it makes the transition from straight-laced to complex well. The second track opens with "I Got This Feeling", an Ozzy styled song with some fun lyrics. "Running from the Shadow", is probably the heaviest track while "Speed" does just that. "Fright" closes the record at nearly six-minutes, a slower paced song that shows off the emotional aspect of Sentence's vocal range. There's a reason why he is the proverbial hired gun.
Frontiers continues to release quality albums and this one is no different. Just over the last 90 days we've gotten good records like Stephen Pearcy, Great White and Graham Bonnet. Crossbones picks right up where they left off in the 80's. This is highly recommended for the gear heads out there. Riffs galore!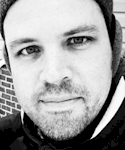 About this Writer:
Eric Compton
// Eric Compton lives in the most haunted city in the world, St. Augustine, Florida with his family and two yorkies. He has served as senior editor for MaximumMetal.com for nearly 10 years and is the author of the heavy metal book series--Denim & Letters. His reviews, interviews and social commentary has been featured on websites like Brave Words, Blabbermouth, Metal Temple, Metal Rules, Ultimate Metal, Metal Maniacs and Wikipedia.
Maximum Metal Rating Legend - Click for Full Details
All reviews for Crossbones:
---
All interviews for Crossbones:
| | | | |
| --- | --- | --- | --- |
| INTERVIEW | BAND | INTERVIEWER | DATE |
---
You may also like: