Delain
We Are The Others

Company: Roadrunner Records
Release: 2012
Genre: Gothic, Symphonic
Reviewer: ChaosLord
Solid symphonic metal album

"We Are The Others" is the 3rd album from these symphonic metallers and it feels very different from their previous releases. It is heavier at times and more riff-oriented than prior albums while keeping the symphonic element intact. "The Others", a song off the album has a very creepy choral backing track with a children's choir that gives me chills. This is a very angry album as far as song matter goes, someone did not have a good relationship experience, I gather. "Others" features a guest appearance by Burton C. Bell from Fear Factory on the track "Where Is the Blood" which plays off Bell's gruff delivery to Charlotte Wessel's demure, emotional delivery.
The album overall is the best that Delain has released since their formation and is more of a mature record that showcases the band's growth and development through time. The album also features 4 live tracks that show Delain delivers the goods live and singer Charlotte Wessels can belt it out just as well live as in studio. The band tackles some modern subjects like talking about Twitter and social media on the song "Generation Me". "Are You Done With Me" is a stand out track for me. The way the song and Wessels' voice comes at you, it really pulls you in and you can feel her emotions coming through the music.
Fans of this band and similar female bands will definitely want to grab this record and give it a spin. Solid symphonic metal album and definitely worth picking up.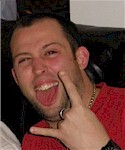 About this Writer:
Greg Watson
// Greg Watson has been hooked on the loud and heavy sounds since the summer of 1994 when he first heard the opening notes of "Operation: Mindcrime" by Queensryche. Since then his tastes have expanded and grown like the ever evolving heavy metal tree of genres. He has been an active member of Maximum Metal off and on for 10 years. In his spare time, Greg enjoys deciding the fate of his loyal subjects in the realm of Skyrim and secretly playing air keyboard to "Separate Ways" by Journey when no one is watching. He currently resides in Roanoke, VA with his wife and his metal wannabe beagle.
Maximum Metal Rating Legend - Click for Full Details
---
All interviews for Delain:
| | | | |
| --- | --- | --- | --- |
| INTERVIEW | BAND | INTERVIEWER | DATE |
---
You may also like: