Dark Tranquillity
We Are The Void

Company: Century Media
Release: 2010
Genre: Melodic Thrash/Death
Reviewer: EC
Completely mesmerizing and consuming from start to finish

I can remember reading about Dark Tranquillity in the old Chronicles Of Chaos webzine way back in the early 90s. At that time "The Gallery" was deemed the future of heavy metal, a pioneer that fused the melody of NWOBHM, the fury of Swedish death and the consuming doom death gothic overtones from England. While the band were direct descendants of At The Gates, I found the group much more dynamic and complex, eventually becoming the Dream Theater of the Gothenburg metal scene by 99's "Projector". I followed the band a few more years after that release but then found the act really hard to grasp, almost creating too much with their sound for a comfortable listen. In lieu of complexity I ventured into more commercial realms like In Flames and Soilwork for more peace of mind and instant audio gratification.
Ten years later I am now returning to Dark Tranquillity and their new release "We Are The Void". In preparation for the album I watched all five segments of the band's studio report on You Tube. It was interesting to finally get a glimpse of famed (and favorite) producer Tue Madsen and a small fraction of what exactly transpires under his watchful eye. The amount of detail, constructive criticism and technological prowess was amazing to watch as the band unleashed the creative process behind their new opus. I must say that I missed the group's last album, again with Madsen producing, but I'm really happy to be on board with this release as I feel it is the best I've heard them thus far.
"We Are The Void" is completely mesmerizing and consuming from start to finish. It took me a full week to completely digest the album as each song required a day of play to fully comprehend everything that was established. This album may have completely confused me in the 90s. Now that I am a thirty something metalhead with more patience and understanding this type of album just makes sense to me. The band creates different angles and directions with the song, sometimes clocking in with a verse-verse-chorus-verse-verse approach and at other times completely abstract in delivery. The album opener, "Shadow In Our Blood", is melodic death 101 backed by huge Gothic keyboards that remind me of Cradle Of Filth. Cuts like "In My Absence" and "The Fatalist" really have a modern feel, with tiny brush strokes of melody and quick rhythm punches, much like In Flames' "Come Clarity" record. The band mixes the album up really well, from Gothic clean vocals mainstaying "Her Silent Language" to the black-metal oriented "Arkhangelsk" (BraveWords compared that song to Dimmu Borgir and I agree). The album closes with the longest entry, "Iridium", a semi-ballad that is very ambient and detached. The album also has a couple of bonus tracks floating around as well as the previously mentioned studio report.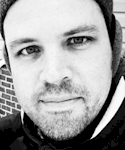 About this Writer:
Eric Compton
// Eric Compton lives in the most haunted city in the world, St. Augustine, Florida with his family and two yorkies. He has served as senior editor for MaximumMetal.com for nearly 10 years and is the author of the heavy metal book series--Denim & Letters. His reviews, interviews and social commentary has been featured on websites like Brave Words, Blabbermouth, Metal Temple, Metal Rules, Ultimate Metal, Metal Maniacs and Wikipedia.
Maximum Metal Rating Legend - Click for Full Details
All reviews for Dark Tranquillity:
---
All interviews for Dark Tranquillity:
---
You may also like: