Ektomorf
Redemption

Company: AFM Records
Release: 2010
Genre: Heavy, Power Groove
Reviewer: EC
A punishing display of grooves and emotion

"Redemption" marks the eight studio album from Hungary's premier export Ektomorf. The band has had a fairly large impact on metal's mid-card, scoring albums for dominant label Nuclear Blast after toiling away in their home country for much of the late 90s and early 00s. I've read some fans dismissals of these Hungarians as simply Sepultura clones but I disagree. Through the years the band has excelled, really digging in deep to provide albums that have more substance and moisture, especially in the production as opposed to the bone dry sounds of Brazil.
The group bring in famed producer Tue Madsen and his esteemed Ant Farm Studios for the recording. Madsen is the go-to-guy for the most metallic of brutal bands, this time a sound treatment for "Redemption" that mirrors ultra-heavy production given to Denmark's The Burning and Sweden's The Haunted. Plenty of raw power is on display and Madsen gives the most picture perfect clarity for these hard hitting sounds, leaning in fully to expand on crisp clean drums and those crushing grooves that are a mainstay with music this heavy.
Long time fans will absolutely fall in love all over again with this brutal piece of work, a punishing display of grooves and emotion that rivals even the heaviest of the heavy. Sure Sepultura comes to mind at times but I think the band leans on early Machine Head, mid-era Pantera and their own unique spin on angry tunes. I love the atmospheric elements given to "I'm In Hate", with touches of melody sporadically placed. Korn fans will like the spoken bit parts of "Stay Away" with its deep distortion as a back drop. Single "Sea Of Misery" is a change of pace, the proverbial calm in the eye of the storm. This track mixes in acoustic guitars and a softer delivery, not a far cry from Latin metal act Ill Nino. The strangest combo of the year proves to be "The One" with Canadian rocker Danko Jones offering up vocals, unfortunately through a voice box that doesn't impress. Favorite cuts for me are "God Will Cut You Down" (could have been lifted right off MH's "Burn My Eyes") and the Sabbath stomping "Cigany".
The Bottom Line - Color me angry even on the sunniest of days. Ektomorf's "Redemption" can be mentioned in the same documents as "Roots", "Burn My Eyes" and "Vulgar Display Of Power". For newer fans of The Haunted, The Burning, Throwdown and Five Finger Death Punch...give these guys a listen. It doesn't get any meaner than this.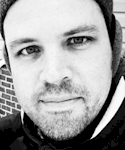 About this Writer:
Eric Compton
// Eric Compton lives in the most haunted city in the world, St. Augustine, Florida with his family and two yorkies. He has served as senior editor for MaximumMetal.com for nearly 10 years and is the author of the heavy metal book series--Denim & Letters. His reviews, interviews and social commentary has been featured on websites like Brave Words, Blabbermouth, Metal Temple, Metal Rules, Ultimate Metal, Metal Maniacs and Wikipedia.
Maximum Metal Rating Legend - Click for Full Details
All reviews for Ektomorf:
---
All interviews for Ektomorf:
| | | | |
| --- | --- | --- | --- |
| INTERVIEW | BAND | INTERVIEWER | DATE |
---
You may also like: