Falling In Reverse
The Drug In Me Is You

Company: Epitaph
Release: 2011
Genre: Hard Rock
Reviewer: EC
You work forty hours and I bang chicks

Man, I am loving this band. Falling In Reverse comes with so much cargo and baggage that I have to introduce the band to those not in the know. The band was formed by ex-Escape The Fate singer Ronnie Radke upon his release from Las Vegas' High Desert Prison in 2010. Ronnie was involved in an altercation in 2006 that led to the death of an eighteen year old man. He was sentenced to probation, skipped his meetings with the probation officer and landed a forty-eight month term in prison. Sounds like an episode of "Behind The Music" but keep in mind that Ronnie had lived a short life of fame with his band Escape The Fate post-altercation, eventually releasing a crowning achievement in "Dying Is Your Latest Fashion" for Epitaph in 2006. The band moved on with a new vocalist and ousted Ronnie from the group after his arrest. Moving on...
"Dying Is Your Latest Fashion" was the Escape The Fate calling, a great album that showed off Ronnie's egotistical writing style and charismatic vocals. The guy is like David Lee Roth for a new generation of teen mop heads and displays that "you work forty hours and I bang chicks" mentality on stage and through the lyrics. Unfortunately for me, Escape The Fate moved on but never captured the success of the first record. I was stoked upon hearing that Ronnie was picking right up with Falling In Reverse. This debut for Epitaph is loaded with chemistry and excels to a degree that may be better than the original "Dying...". Look for lyrics and imagery that reflects Ronnie's life from childhood to former band mates to prison and rehab. The songs are beaming with catchy chorus runs and a sense of fun amidst the ordeal. Guitar playing is superb and clocks in with a mixture of Aiden, Escape The Fate and a good sense of power from guitarist Mika Horiuchi (ex-Cellador). Interesting to see that this sort of teens' rant and rave is so 00s, but music is music and if you feel it then it should be rather timeless. Chalk this one up to perseverance and rising from ruin.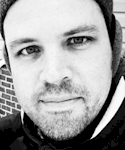 About this Writer:
Eric Compton
// Eric Compton lives in the most haunted city in the world, St. Augustine, Florida with his family and two yorkies. He has served as senior editor for MaximumMetal.com for nearly 10 years and is the author of the heavy metal book series--Denim & Letters. His reviews, interviews and social commentary has been featured on websites like Brave Words, Blabbermouth, Metal Temple, Metal Rules, Ultimate Metal, Metal Maniacs and Wikipedia.
Maximum Metal Rating Legend - Click for Full Details
All reviews for Falling In Reverse:
---
All interviews for Falling In Reverse:
| | | | |
| --- | --- | --- | --- |
| INTERVIEW | BAND | INTERVIEWER | DATE |
---
You may also like: