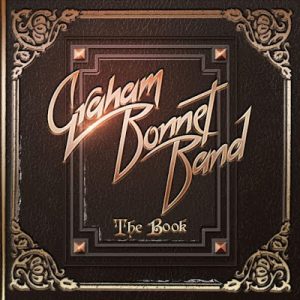 Graham Bonnet Band
The Book
Type: CD
Company: Frontiers
Release: 2016
Genre: Traditional
Reviewer: Eric Compton
Published:3/8/2017

Traditional heavy rock from a genre cornerstone
Graham Bonnet is one of the cornerstones of heavy metal and hard rock. He has voiced albums ranging from Alcatrazz to Rainbow and Impellitteri to Michael Schenker Group. Bonnet has been active on the road and recording since 1968. That's a lot of miles, a ton of songs and a nearly endless list of vocal melodies and notes. It's hard to even grasp the back catalog and full body of Bonnet's work. While there has been a slew of solo albums from Graham Bonnet, 'The Book', released in 2016 via Frontiers, is the debut album for the Graham Bonnet Band.
Graham Bonnet Band's touring moniker was Bonnet, Parga & Heavenstone as far back as 2013. Mario Parga isn't listed on the current line-up. Instead the lead guitar spot is for South American virtuoso Conrado Pesinato (Hardly Dangerous). The band includes keyboardist Jimmy Waldo (ex-Alcatrazz), drummer Mark Zonder (Fates Warning, Warlord), Beth-Ami Heavenstone (Hardly Dangerous) on bass and, of course, Graham Bonnet on lead vocals.
'The Book' opens with "Into the Night", a quick fret-work piece from Pesinato, backed by keyboardist Waldo's constant backing score. Bonnet is such an abstract singer and maintains a classical arrangement for the song. Double-bass through the chorus, combined with moody keys, makes it a little abstract. The track's timing change at 2:40 keeps it interesting. "Welcome to my Home" follows with a slower pace bordering on progressive tendencies due to the softer strings. Again, the keyboard and neo-classical styled guitar combines to make this a dynamic classic sound. Bonnet embraces his roots on "Earth's Child (I Am Your Son)", a little psychedelic-space rock that has a real early 70's vibe. "Rider" is one of my favorites of the first half. Heavenstone gains the opportunity to shine with an up-front bass-line before the song moves into a robust harmonized chorus piece that builds into a crescendo for the last minute. "Dead Man Walking" closes out the first-half with arguable the most aggressive song, a 90's Iron Maiden tinged song with plenty of double-bass and slightly heavier strokes. I'm reminded of Blaze Bayley's vocal harmonies and the backing track keeps it a little light-hearted.
"Strangest Day" starts the second-half with a loud, symphonic rumble before settling into a mid-tempo arrangement. The chorus and mid-section is structed with some faster, chugging rhythm guitars and bass lines. It's in the same mindset as the earlier "Dead Man Walking". "The Dance" has a small new wave feel with Pesinato's layered guitar track but quickly deteriorates into a streamlined slower cut with more pop vocals and writing. "Where Were You?" has some quirky synth effects that fits into the psychedelic spacey arrangement and style. "The Book" is just a simple track, clearly etched in 70's rock, with layered vocals. It's probably my least favorite of what is ultimately a weaker Side B. "Everybody Has to Go There" once again has that layered effect on the strings. It's combined with some heavier cymbal use that that leads into a soaring lead at the 1:45 mark. That fret-work picks up the keyboards and creates a dazzling display for nearly a full minute. The album closes out with "California Air", a driving guitar oriented track that shows Bonnet in his traditional glory. It's a seasoned sound that never gets old.
Depending on your version of the album, a second disc is included with re-recordings of some of Bonnet's previous work. It's a nice addition that revisits Bonnet's storied past. Overall, 'The Book' is a fantastic record that combines Bonnet's famed voice with a band that is stellar in their own right. It's a book worth reading again and again.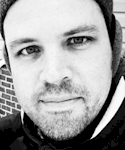 About this Writer:
Eric Compton
// Eric Compton lives in the most haunted city in the world, St. Augustine, Florida with his family and two yorkies. He has served as senior editor for MaximumMetal.com for nearly 10 years and is the author of the heavy metal book series--Denim & Letters. His reviews, interviews and social commentary has been featured on websites like Brave Words, Blabbermouth, Metal Temple, Metal Rules, Ultimate Metal, Metal Maniacs and Wikipedia.
Maximum Metal Rating Legend - Click for Full Details
All reviews for Graham Bonnet Band:
---
All interviews for Graham Bonnet Band:
| | | | |
| --- | --- | --- | --- |
| INTERVIEW | BAND | INTERVIEWER | DATE |
---
You may also like: