Glenn Hughes
Music for the Divine

Company: Demolition
Release: 2006
Reviewer: Vinaya
Genre: Hard Rock

Rating
3.5


If you've got an open mind and a tolerance for funkier stuff...

I came to know of bassist-vocalist Glenn Hughes through his brief but remarkable tenure with British heavy rock pioneers Deep Purple and have had much more limited experience with his solo material. However, it didn't take much more than "Gettin' Tighter" (from Purple's Come Taste the Band album) for me to get the idea that the man had a serious predilection for music considerably funkier than what his day job at the time generally offered.
These days, it is clear that Glenn's funk tendency has long since become a major focus of his work, with his hard rock past having been put behind him for the most part--more than a bit self-consciously it seems. And yes, his soul (and funk) brother, Red Hot Chili Peppers drummer Chad Smith, is along for the ride, even bringing on Chili's guitarist John Frusciante for one cut. But it's Hughes' frequent collaborator J.J. Marsh who does the six-string honors on the rest of the album (with a little help from Hughes), and in fine, though understated, fashion.
As the title suggests, Music for the Divine finds Glenn delving into matters spiritual, or at least addressing situations in which spirituality might come in handy (see the eerie, tragic near-ballad "Frail" and similarly desperate closing tune "The Divine"). The laid back, acoustic guitar-driven "This House" is a definite highlight in this regard, albeit with a noticeably more upbeat, hopeful vibe.
No, there are no balls-out headbanging tunes to rival "Burn" or other rock milestones of which Hughes has been a part. However, this is a fairly raw, organic album (apparently his newer release, First Underground Nuclear Kitchen, differs in this respect), and when Hughes and company lay into a hard, funky groove, it often rocks impressively. For a fix of Glenn in fine funk-rocking form, check out the power-funk grooves of "Black Light," the simple, slamming "Monkey Man" and especially "Steppin' On," which climaxes with an up-tempo, riff-driven closing jam.
Glenn's uniquely affected, often nasal vocals, are still an acquired taste, and get a little grating on tracks like "You Got Soul." However, Frusciante- whose recent work with the Chili's I honestly have not cared for- contributes a pleasant surprise labeled a "Guitar Experience" (note the caps!) on the tricky, trippy piece of positive musical energy called "This is How I Feel."
By now, it should be clear that those seeking a sequel to "Burn" or "You Fool No One" should look elsewhere, perhaps the Coverdale camp. However, if you've got an open mind and a tolerance for funkier stuff, you would be well-advised to check out Music for the Divine.
Note: For some odd reason, "This is How I Feel" appears twice on my promo copy of the album, while the Frusciante-enhanced cover of "Nights in White Satin" listed as appearing on the album is strangely absent. What's going on here, Demolition?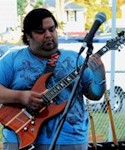 About this Writer:
Vinaya Saksena
// Vinaya is either a writer who dabbles in guitar playing, or a guitar player who dabbles in writing. A Maximum Metal staffer since 2004, he has also served as a reporter for several newspapers in Rhode Island and Massachusetts. Although his obsession with music is such that it does not allow time for much else by way of hobbies, he also enjoys traveling, trivia, photography, British comedy and the occasional A-Team re-run.
Maximum Metal Rating Legend - Click for Full Details
All reviews for Glenn Hughes:
---
All interviews for Glenn Hughes:
| | | | |
| --- | --- | --- | --- |
| INTERVIEW | BAND | INTERVIEWER | DATE |
---
You may also like: