Ghost
Meliora




Company: Loma Vista
Release: 2015
Genre: Progressive, hard rock
Reviewer: Greg Watson


An intoxicating cocktail

With their third album, "Meliora", Ghost continue to prove that when they put a new album out, you'd be a fool not to listen. Translating from Latin, "Meliora" means the pursuit of something better. "Meliora" is a fantastically wondrous album full of all the things we have come to know, expect and love from Ghost. With "new" singer, Papa Emeritus III, the vocals on this album sound like a wonderful amalgam of Papa I & II carrying that smoothness and life that makes it so unique. Tracks like "Spirit", "Cirice" and "He Is" are some of his finest vocal performances on the album that blend that smoothness with a bit of emotion and verve to give you an intoxicating cocktail that sucks you in and holds you spellbound.
Musically, "Meliora" shares some of its sound with the prior albums, featuring a very old school, hard rock feel that is influenced by Blue Oyster Cult, Emerson, Lake and Palmer and a little bit of Kansas. However, there are some new sonic landscapes traversed on this album as well. "Cirice", the album's longest track at 6:03, starts off with this incredibly beautiful acoustic intro that slowly gives way to a doom-drenched riff that is coupled with some very heavy drumming and then drops to a solo piano at the 2:15 mark that is just haunting and incredibly powerful when used with Papa's voice. The thunderous drums and gloomy riff return right after and an almost dark vs. light tete-a-tete begins as the song continues.
Not to be outdone, "He Is" is one of the most diverse and atypical songs that Ghost has done in their career so far. Starting off with an almost Irish folk-sounding guitar intro, the vocals kick in and feel very folksy and comforting. Then the strings come in and Papa's sonorous voice soars over the strings and the light tones of a piano in the background. The folk feel to this song is just infectious and the message of the song is quite easy to pick up. It's an ode to some deity and the impact he/she has had on the singer. I don't want to speculate as to who or what the deity could be but if you are familiar with the band and really listen to the lyrics of this track, you'll be able to figure it out. But the overall feeling from this song is just one of awe, power and admiration. The music on this track is some of my favorite the band has ever done and they do it while still having their classical rock sound sneak in a time or two.
I have always loved the vocals on Ghost's albums and have usually found the music to either get a little repetitive or just not really feeling the music run through me like some albums and artists tend to do. However, with "Meliora", the band have managed to really up the ante with the music and with some of the aforementioned deviations from the musical, shadowy path they walk, this may be my favorite album of theirs from beginning to end. The sounds and audioscapes that are painted and played on "Meliora" are ones that you can lose yourself in entirely and then find another angle that you didn't catch before that opens up a whole new vista to explore and immerse yourself into. The album's production has some incredible clarity and really allows each element to work both individually and as a cohesive unit to create this swirling, almost never ending aural ambience throughout.
Ghost is a band that has had a somewhat meteoric rise since their first album and that rise has continued and their star has continually shone brightly while silhouetted against a pitch black sky. "Meliora" continues that ride and will further add to the luminous quality of their star. Go out and buy a copy of "Meliora" immediately, you will not regret it. Favorite tracks are "Spirit", "From the Pinnacle to the Pit", "He Is", "Mummy Dust" and "Deus In Absentia".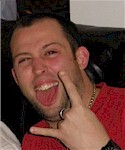 About this Writer:
Greg Watson
// Greg Watson has been hooked on the loud and heavy sounds since the summer of 1994 when he first heard the opening notes of "Operation: Mindcrime" by Queensryche. Since then his tastes have expanded and grown like the ever evolving heavy metal tree of genres. He has been an active member of Maximum Metal off and on for 10 years. In his spare time, Greg enjoys deciding the fate of his loyal subjects in the realm of Skyrim and secretly playing air keyboard to "Separate Ways" by Journey when no one is watching. He currently resides in Roanoke, VA with his wife and his metal wannabe beagle.
Maximum Metal Rating Legend - Click for Full Details
---
All interviews for Ghost:
| | | | |
| --- | --- | --- | --- |
| INTERVIEW | BAND | INTERVIEWER | DATE |
---
You may also like: