God Forbid
Equlibrium

Company: Victory
Release: 2012
Genre: NWOAHM
Rating: 4
Reviewer: EC
A powerful statement

God Forbid are one of the pioneers of the New Wave of American Heavy Metal and an act that certainly defines what is expected from the over crowded metalcore genre. That being said I am a late arrival to the God Forbid show, not really starting a tab on these guys until a few years ago. I've been fond of this genre and have always admired acts like Shadows Fall, Killswitch Engage and All That Remains. This New Jersey band really pinned me down a few years ago at a Mayhem Energy fest with a sound that rivaled their headliners Killswitch Engage, Slayer and Bullet For My Valentine. I was anticipating a new release for the band and what a perfect time for both old and new fans to welcome this seventh studio effort in "Equilibrium".
This entry is the first of the band's career for new home Victory. The band had a long running relationship with Century Media for eleven years but parted ways for what I assume would be more exposure and opportunity with the Victory marketing machine. The band also part ways with long time guitarist Dallas Coyle, replacing him with newcomer Matt Wickland.
"Equilibrium" should and will appear on many "Best of 2012" lists including my own. This new record is refreshing with its melodic injections and soaring lead work, all masterfully interlaced in breakneck thrash rhythms and the crushing dynamics of modern technology. Producer Jason Suecof (Job For A Cowboy, August Burns Red) works his magic again, giving crystal clear sound to the last detail. The triggered double bass is right up front but doesn't muffle the riffs and clean singing. The band not only benefits from a mastermind like Suecof but also gets a hand mixing and mastering from the talented Jens Bogren, who is fresh off of his blistering production job on Kreator's "Phanton Anti-christ".
The end result is a powerful statement on where God Forbid fits in today's hierarchy. With familiar faces like Shadows Fall and All That Remains checking in this year with quality releases it's no doubt that God Forbid rivals and even out-performs their peers. "Equilibrium" proves that these veterans still contain the same intensity and fire that lit up the northeast back in the late 90s. With the new label support and a fresh face this act can simply do no wrong.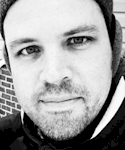 About this Writer:
Eric Compton
// Eric Compton lives in the most haunted city in the world, St. Augustine, Florida with his family and two yorkies. He has served as senior editor for MaximumMetal.com for nearly 10 years and is the author of the heavy metal book series--Denim & Letters. His reviews, interviews and social commentary has been featured on websites like Brave Words, Blabbermouth, Metal Temple, Metal Rules, Ultimate Metal, Metal Maniacs and Wikipedia.
Maximum Metal Rating Legend - Click for Full Details
All reviews for God Forbid:
---
All interviews for God Forbid:
| | | | |
| --- | --- | --- | --- |
| INTERVIEW | BAND | INTERVIEWER | DATE |
---
You may also like: