Godsmack
The Oracle

Company: Republic Records
Release: 2010
Genre: Hard Rock
Reviewer: EC
Godsmack sound but with a bit more reckless abandon

Still to this day Godsmack will go down in history as the worst live performance I have ever witnessed. I still remember the moment they hit the stage at the Roanoke Civic Center in Virginia back in 2001. The first, and I sincerely hope the only time, I have fallen asleep at a rock concert. I've never been a huge Godsmack supporter and often found their albums lacking any melody or actual song diversity. In its place just those boring wash-machine riffs (see Nickelback/Sevendust) and Sully Erna's uninspired grunge flavored voice. The last album the group released was four years ago, the aptly titled "IV" which found the act finally balancing out their sound with a bit of chemistry and production tools. Now the group return to the mainstream after a long break with "The Oracle".
Right off the bat the album delivers that Godsmack sound but with a bit more reckless abandon. Sure the act haven't strayed far from those concrete riffs, almost zero lead work and Sully's characteristic grunge soul, but now they have found a bit of dynamics that greatly improves a rather stale product. Kudos to producer Dave Fortman (Mudvayne) for bringing a razor sharp punch to the sound, gearing these Boston bad boys for a more arena sound that is still heavy yet engrossing. This is the Godsmack that I wanted to hear.
Lead single "Cryin' Like A Bitch" has already landed high in the Billboard charts, a killer cut that supposedly points the finger at Nikki Six's antics on the group's tour last year. Sully recently stated that there was some 'rockstar bullshit' on that tour and one can gather that the song is penned for a reason. The group throw in some really quick paced choices as well, like the wicked stomp of "Devil's Swing" and "War And Peace". The band becomes rather crafty on the long instrumental 'The Oracle" with tons of lead work (shocker) and some sound samples. My favorites are the Alice In Chains-like "Love-Hate-Sex-Pain" and bonus track "Whiskey Hangover".
While always successful, Godsmack have finally impressed me after six attempts. I really like this album!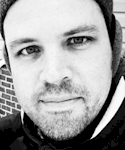 About this Writer:
Eric Compton
// Eric Compton lives in the most haunted city in the world, St. Augustine, Florida with his family and two yorkies. He has served as senior editor for MaximumMetal.com for nearly 10 years and is the author of the heavy metal book series--Denim & Letters. His reviews, interviews and social commentary has been featured on websites like Brave Words, Blabbermouth, Metal Temple, Metal Rules, Ultimate Metal, Metal Maniacs and Wikipedia.
Maximum Metal Rating Legend - Click for Full Details
All reviews for Godsmack:
---
All interviews for Godsmack:
| | | | |
| --- | --- | --- | --- |
| INTERVIEW | BAND | INTERVIEWER | DATE |
---
You may also like: