Halloween
Victims Of The Night

Company: Pure Steel
Release: 2010
Genre: Traditional
Reviewer: EC
Blue collar rough and ready

Pure Steel Records brings us more 80s metal galore with a pair of reissues showcasing Detroit's Halloween. I've been a fan of the band for over a decade, originally hearing "Victims Of The Night" back in '97 courtesy of Molten Metal. That small label released the album after numerous years of cult status following. The record was originally recorded in 1986 but was never officially released. The very small pressing released the album in a very limited number in '97 and now Pure Steel shows with a reissue featuring better sound, two unreleased tracks and a video.
Fans of US heavy metal will surely cherish this gem. Halloween embellishing that steel mill authority of blue collar rough and ready primed with a horror themed writing style. Halloween will appeal to fans of Malice, Metal Church, Motley Crue and even underground Euro acts like Death SS.
This reissue features a complete remaster courtesy of Bart Gabriel, a true metal mastermind who has been behind numerous projects of late. Many will recognize his name from working with Deceased, Iron Cross, Hirax, Overdrive, Lonewolf and even the famed Sabbat and he turns a few good tricks here making this the best sounding version to date. Throw in the unreleased track "Come And Get It" and the previous hidden cut "Halloween Night" and this is well worth the price of admission.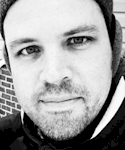 About this Writer:
Eric Compton
// Eric Compton lives in the most haunted city in the world, St. Augustine, Florida with his family and two yorkies. He has served as senior editor for MaximumMetal.com for nearly 10 years and is the author of the heavy metal book series--Denim & Letters. His reviews, interviews and social commentary has been featured on websites like Brave Words, Blabbermouth, Metal Temple, Metal Rules, Ultimate Metal, Metal Maniacs and Wikipedia.
Maximum Metal Rating Legend - Click for Full Details
All reviews for Halloween:
---
All interviews for Halloween:
| | | | |
| --- | --- | --- | --- |
| INTERVIEW | BAND | INTERVIEWER | DATE |
---
You may also like: