Havok
Point of No Return

Company: Candlelight Records
Release: 2012
Genre: Thrash
Reviewer: ChaosLord
Face melters aplenty

Havok is an American thrash band from Colorado releasing a 4 song EP entitled "Point of No Return". The EP features two original tracks, "Point of No Return" and "From the Cradle to the Grave" as well as covers of Sepultura's "Arise" and Slayer's "Post Mortem/Raining Blood".
Havok is following in the footsteps of the resurgence of thrash metal and offer a brutal 4-song assault of pure, unadulterated thrash. The bands original tunes are old school thrash with an infusion of new thrash thrown in. The riffs are killer, very fast and groove-heavy with face melters aplenty. The rhythm section is nice and fat with plenty of double time drumming and chunky bass riffs to fill in everything like a tightly sealed virgin's legs on prom night. The vocals have a very raw, visceral feel to them very similar to Tom Araya from Slayer and feel at times as if they are being spat out with loathing and maliciousness.
The covers are done very well with a little bit of the band's own styling thrown in to make it sound their own. This EP is a must have for any thrash metal fan who is worth their weight in salt. Venture forth to pick up the "Point of No Return"!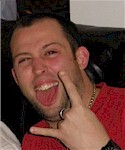 About this Writer:
Greg Watson
// Greg Watson has been hooked on the loud and heavy sounds since the summer of 1994 when he first heard the opening notes of "Operation: Mindcrime" by Queensryche. Since then his tastes have expanded and grown like the ever evolving heavy metal tree of genres. He has been an active member of Maximum Metal off and on for 10 years. In his spare time, Greg enjoys deciding the fate of his loyal subjects in the realm of Skyrim and secretly playing air keyboard to "Separate Ways" by Journey when no one is watching. He currently resides in Roanoke, VA with his wife and his metal wannabe beagle.
Maximum Metal Rating Legend - Click for Full Details
---
All interviews for Havok:
| | | | |
| --- | --- | --- | --- |
| INTERVIEW | BAND | INTERVIEWER | DATE |
---
You may also like: