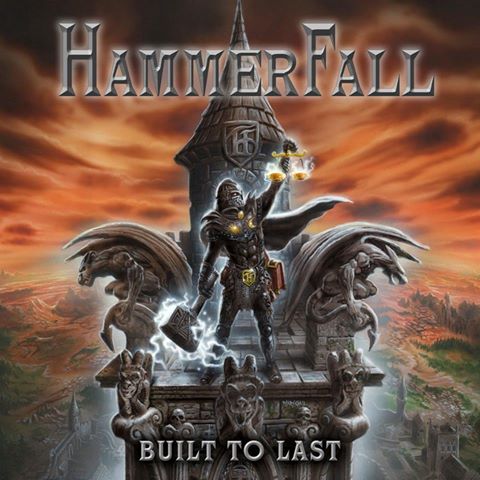 HammerFall
Built to Last
Type: CD
Company: Napalm
Release: 2016
Genre: Power
Reviewer: Eric Compton
Published:12/20/2016

Hammerfall continue to metal on year after year
People are going to say what they want about long time vets Hammerfall. Love 'em or hate 'em, at the end of the day they continue to work harder than most and have supportive fans for a reason. These Swedes continually put out fresh material and tour nearly nonstop. I've met them and enjoyed two live performances over the years. They are a riot live. Great entertainers. Enough said about the band's validity. Yet the band's detractors have a good argument. The band arguably hasn't changed their style much over the course of twenty years and ten records. 'Built to Last' isn't doing anything to sway that argument.
The album is the first Hammerfall record of their career to be released on a label other than Nuclear Blast. Napalm swings in and picks the group up for this release (a costly acquisition I bet). The album is mixed/mastered by Studio Fredman with Cans' vocals done in L.A. Session drummer David Wallin (Pain) fills in for the album, replacing longtime drummer Anders Johansson.
The band's first single, "Hammer High", threw me immediately into the land of "Yuck". The self-indulgent anthem did little to convince me that this was a better record than say...'Threshold' or 'No Sacrifice, No Victory', two very average albums. Yet with the whole thing fully digested there was plenty of comfort food found. Opener "Bring It" starts off with a bang and delivers a decent fast pace with a rather lazy chorus. It's okay as "Dethrone and Defy" and "Stormbreaker" continue that streak but with slightly improved vocals and arrangement. The title track throws out tons of unity, the gang vocals emphasizing the heavy groove and gallop. "New Breed" is total Accept worship (or is it Hammerfall worship at this point?) while "Star of Home" is another fast-paced winner. The throwaway? Utter nonsense like "Twilight Princess", the obligatory Hammerfall ballad that demands to skip.
You could do better with bands that push the envelope a little further. The end result is another quality output from a band that continues to work hard, albeit faster, not smarter. I'm okay with it. Pass me the next Grave Digger album. I'm that kinda mophead.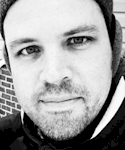 About this Writer:
Eric Compton
// Eric Compton lives in the most haunted city in the world, St. Augustine, Florida with his family and two yorkies. He has served as senior editor for MaximumMetal.com for nearly 10 years and is the author of the heavy metal book series--Denim & Letters. His reviews, interviews and social commentary has been featured on websites like Brave Words, Blabbermouth, Metal Temple, Metal Rules, Ultimate Metal, Metal Maniacs and Wikipedia.
Maximum Metal Rating Legend - Click for Full Details
All reviews for HammerFall:
---
All interviews for HammerFall:
---
You may also like: