Inacave
Inacave




Company: Indy
Release: 2015
Genre: Heavy
Reviewer: Greg Watson


Hellbent on your destruction

Sweden's Inacave delivers a shot of adrenaline to the heart pen with their album "Inacave".
Combining elements of the Gothenburg sound with a bit of metalcore and NWOAHM stylings akin to Lamb of God, Inacave pulverize and grind down your auditory functions with sheer heaviness, technicality and a sharpness that is as honed as a samurai sword. Musically, you can tell that Inacave are heavily influenced by acts like Carnal Forge, Amon Amarth, The Haunted with a melodic twin-guitar attack and then pepper in some of the most titanic breakdowns I have heard in a while. The aggression and malice contained within the guitar work of Daniel Knaap and Christian Egegaard is enough to send a 28 foot great white shark scampering away in fear. Vocalist Daniel Lonberg has a style that combines Randy Blythe's gravely death vocals with Marco Aro's delivery yet still has a sound all his own. There are no clean vocals on this album, which is a welcome departure from the now standard dual vocals that seem to permeate almost all of the death/deathcore/metalcore/whatevercore releases.
Produced by Daniel Bergstrand (Meshuggah, Behemoth), the album is a clear cut, no bones about it heavy metal album that is hellbent on your destruction and reinvigorating your love for melodic death metal that has no extra frills or posings as death metal. With this style and this precision, Inacave is a band that is embarking on what may well be a meteoric rise and one that I am hoping continues for many years to come.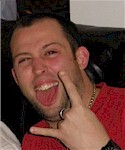 About this Writer:
Greg Watson
// Greg Watson has been hooked on the loud and heavy sounds since the summer of 1994 when he first heard the opening notes of "Operation: Mindcrime" by Queensryche. Since then his tastes have expanded and grown like the ever evolving heavy metal tree of genres. He has been an active member of Maximum Metal off and on for 10 years. In his spare time, Greg enjoys deciding the fate of his loyal subjects in the realm of Skyrim and secretly playing air keyboard to "Separate Ways" by Journey when no one is watching. He currently resides in Roanoke, VA with his wife and his metal wannabe beagle.
Maximum Metal Rating Legend - Click for Full Details
---
All interviews for Inacave:
| | | | |
| --- | --- | --- | --- |
| INTERVIEW | BAND | INTERVIEWER | DATE |
---
You may also like: