In Flames
Siren Charms

Company: Sony Music
Release: 2014
Genre: Progressive
Reviewer: Frank Hill
Doesn't sit alongside the best of their catalog

Anders Fridén's voice, whether soft or abrasive, has always appealed to me. The debate over early melodic death versus latter synth-soaked (or even Americanized -core) sounding In Flames was never an argument I'd join in since he has been a part of all eras of their output. He is the center of which all else revolves. Really, I just like the guy.
What's missing from Siren Charms is a substantive instrumental compliment to the strong pathos of his vocals and the often obtuse lyrics. For the better half of the album, the lead melodies don't wring my emotions nor do the underlying riffs go along any paths that haven't already been worn down by their prior output. I like to have that with an In Flames record since they've already shown, multiple times, the capabilities of being a trend-setting band. Since Anders is more in focus, the overall result is a tamer release that's more introverted than aggressive; more progressive than thrashy.
Siren Charms isn't a bad In Flames record, but it also doesn't sit alongside the best of their catalog.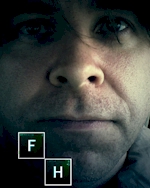 About this Writer:
Frank Hill
// Frank Hill has been at this site since its slimy, crying birth in '03. He was born on National Metal Day--11/11 and will turn his hearing aids up to 11 when he's 111. He secretly listens to a lot of old Country and Doo-Wop tunes and wants to start a cyberband with lead vocals by Robot Plant. He is still trying to figure out what Judas Priest meant by "paratamize you". If you read this, then he salutes you.
Maximum Metal Rating Legend - Click for Full Details
All reviews for In Flames:
---
All interviews for In Flames:
---
You may also like: