InnerWish
InnerWish




Company: Ulterium
Release: 2016
Genre: Power
Reviewer: Eric Compton


Bigger and better than ever

Many would consider InnerWish one of the staples of Greece's power metal scene. The band pre-dates Firewind by three years, forming in 1995 in Athens, and have released four studio records prior to a long break in 2011. The act return bigger and better than ever with this new record that is simply called 'Innerwish'.
The band has experienced a couple of line-up changes since the last album. Former vocalist Babis Alexandropoulos departed the band in 2013 for a career in classical singing and was replaced by George Eikosipentakis (Art of Simplicity, Fragile Vastness). The group also added drummer Fragiskos Samoilis in 2010, replacing Terry Moros.
While the group have always maintained a positive stride lyrically, the addition of Samoilis was pivotal for this album. The new skinsman has writing contributions on eleven of the thirteen cuts and solely wrote a half dozen. His lyrics are very Christian-influenced and retain the same positive vibe the band have achieved since their conception. That writing combined with veteran musicians, a Studio Fredman (Hammerfall) mix and a mastering by Peter In De Betou (Arch Enemy) all contribute immensely to make this the most solid InnerWish album to date. The band compares to Hammerfall and Primal Fear on some of the more traditional pieces ("Roll the Dice", "Machines of Fear") but do inject some epic arrangements that recall later Iced Earth and Mob Rules ("Rain of a Thousand Years"). The highlight for me is the mid to fast paced "Needles in my Mind" which begins like Queensryche before climaxing in an Iron Maiden gallop. Eikosipentakis shines as the new vocalist and has a strong mid-range that he maintains even on some of the faster portions.
While this band may not be a marquee name globally, the facts speak for themselves. Five superb power metal offerings over a twenty year career makes this act a true genre leader.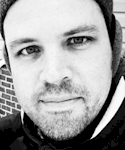 About this Writer:
Eric Compton
// Eric Compton lives in the most haunted city in the world, St. Augustine, Florida with his family and two yorkies. He has served as senior editor for MaximumMetal.com for nearly 10 years and is the author of the heavy metal book series--Denim & Letters. His reviews, interviews and social commentary has been featured on websites like Brave Words, Blabbermouth, Metal Temple, Metal Rules, Ultimate Metal, Metal Maniacs and Wikipedia.
Maximum Metal Rating Legend - Click for Full Details
All reviews for InnerWish:
---
All interviews for InnerWish:
| | | | |
| --- | --- | --- | --- |
| INTERVIEW | BAND | INTERVIEWER | DATE |
---
You may also like: