John Wesley
Disconnect

Company: Inside Out
Release: 2014
Genre: Prog, hard rock
Reviewer: Vinaya
Tuneful, tasteful, somewhat progressive

Many of us who know who John Wesley is probably know of him from his stint as touring guitarist and vocalist for British progressive rock masters Porcupine Tree, whom he joined during their more metal-influenced later years. So, it's not exactly surprising that with Porcupine Tree on a seemingly indefinite hiatus while mainman Steven Wilson enjoys an increasingly successful solo career, Wesley's latest solo album (actually his seventh full length) bears some similarities to the music of his former employer. "Disconnect" features ten tracks of very tuneful, tasteful, somewhat progressive and sometimes somewhat heavy rock that, again, wouldn't sound out of place alongside P-Tree material, but is definitely not a complete stylistic re-tread. Missing, of course, is Wilson's knack for composing twisted tales of equally twisted souls with twisted arrangements to match, though the sort of thoughtful musical backdrop that marked his songwriting has clearly been absorbed by Wesley. His songwriting bears the influence not only of his former band, but of master pop songsmiths like U2 (as heard on "Mary Will"), or, perhaps more accurately, the more progressive, U2-meets-Queen stylings of Muse. Songs like the riff-heavy "Once A Warrior" and the opening title track demonstrate a combination of brains and brawn that show the aforementioned influence of latter-day Porcupine Tree, while "Window" and the album-closing "Satellite" find the guitarist switching gears for a kinder, gentler style, a sort of smart yet soulful guitar-driven pop rock.
Wesley also showed his vocal talents in Porcupine Tree, singing backup vocals and even being allowed the odd lead vocal passage as time went on. Here, he handles lead vocals entirely on his own, in a very human manner that definitely compliments his smart yet very accessible music, allowing him to connect with the listener in a more plainly emotional and less cerebral way than Steven Wilson did in Porcupine Tree. His guitar playing, meanwhile, is fluid, versatile and tasteful, often veering into skilled, melodic but not overly flashy leads that, again, recall Wilson's approach. But coming from someone who's been at it for at least a couple of decades- like Wesley has- this similarity comes across as the product of shared influences and ideas about playing, not a slavish imitation.
Clearly, Wesley has learned a thing or two about songwriting from his Porcupine Tree days, giving us solid, substantial tracks like "How Goes The War" and my personal favorite, "Any Old Saint." However, "Disconnect" is no second-string "In Absentia," and clearly has its own musical charms, even if a P-Tree fan like myself cannot help but feel it is lacking something- specifically, the challenging nature of his former band's music. But that is understandable, given that the overwhelming majority of that music was Wilson's creation, and I feel it is not entirely fair of me to expect something similar just because of Wesley's past. I guess that, because of that association, even the slightest similarity between the two invites comparisons in my mind. But listen without such preconceptions, if you can, and chances are you will find something with which you can connect on "Disconnect".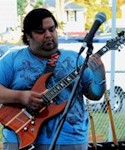 About this Writer:
Vinaya Saksena
// Vinaya is either a writer who dabbles in guitar playing, or a guitar player who dabbles in writing. A Maximum Metal staffer since 2004, he has also served as a reporter for several newspapers in Rhode Island and Massachusetts. Although his obsession with music is such that it does not allow time for much else by way of hobbies, he also enjoys traveling, trivia, photography, British comedy and the occasional A-Team re-run.
Maximum Metal Rating Legend - Click for Full Details
All reviews for John Wesley:
---
All interviews for John Wesley:
| | | | |
| --- | --- | --- | --- |
| INTERVIEW | BAND | INTERVIEWER | DATE |
---
You may also like: