Krisiun
Forged In Fury




Company: Century Media
Release: 2015
Genre: Death
Reviewer: David Loveless
Predominately slower

Krisiun, the ferocious death metal band from Brazil, are back with their 9th full-length album Forged In Fury. Over the course of their 20+ year recording history, there are several things that can be expected on a Krisiun release; a relentless assault of blast beats, exceptional riffs that are some of the best in the death metal genre, and extreme vocals that easily define Krisiun as a master of their craft. With releases such as Black Force Domain, Conquerors of Armageddon, and Ageless Venomous, Krisiun have a lot to live up to every time they release an album. That being said, Forged In Fury is not the album that I had hoped for and is disappointing in some regards.
Although one can definitely identify this as Krisiun, they have taken a predominately slower approach to their music. There are still plenty of death metal moments on here but the blast beats are a little sparse (as compared to earlier releases), some of the riffs seem rehashed, and there are slower moments on here, more than necessary – especially for a Krisiun album. There is some good news though. Alex's vocals are in top form and make up for a lot of brutality that is lacking in the music, and the production efforts of Eric Rutan are top notch as usual. There are some standout tracks as well, such as Dogma of Submission, Burning Of The Heretic, and Timeless Starvation. The album closes with a short acoustic piece called Milonga De La Muerte, which seems more like a filler than an appropriate ending to the album.
I do not dislike Forged In Fury at all, but it just doesn't compare musically to their earlier albums. It's easy to tell that they are stepping out in other directions musically and adding elements that us Krisiun fans are not used to. Perhaps over time, this album will grow on me and become one of my favorites by them. Unfortunately, however, there's just not enough on here to make me want to give it more than a few spins. If you're new Krisiun fan, I suggest starting with some of the albums that I mentioned earlier. If you're a long-time Krisiun fan, I'm sure you will be giving those older albums a spin as well.

Bandsite: http://www.krisiun.com.br
Company Link: http://www.centurymedia.com/
Cover Link: http://metalrecusants.com/wp-content/uploads/2015/07/Krisiun-Forged-in-Fury.jpg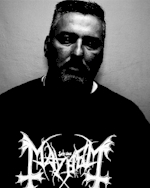 About this Writer:
David Loveless
// Dave's early introduction to Metal was listening to records by Black Sabbath and Kiss. Discovering Metallica's Master of Puppets on record at the local public library turned his world upside down. After spending nearly 24 years in Japan and expanding his love for the International underground metal scene, Dave (and family) now resides in the US. The savage brutality of Extreme Metal brings out the "Grim Gaijin" in him.
Maximum Metal Rating Legend - Click for Full Details
---
All interviews for Krisiun:
| | | | |
| --- | --- | --- | --- |
| INTERVIEW | BAND | INTERVIEWER | DATE |
---
You may also like: