Marduk
Frontschwein

Company: Century Media
Release: 2015
Genre: Black
Reviewer: David Loveless
Still at the top of their game

I remember seeing Marduk live in Tokyo, Japan, in 2013 during their Serpent Sermon tour. It was my first time ever seeing the Black Metal giants live and they put on one hell of a show (no pun intended). I thought to myself, how do these guys manage to stay relevant and at the top of their game for over 20 years? I also thought Serpent Sermon was one of their best album in years, causing me to wonder how they were going to ever top it. That being said, it only took one play through of their 13th studio album, Frontschwein, to realize that I had absolutely no cause for concern.
In standard Marduk fashion, they start the album off with the blistering "Frontschwein". After a short melodic intro, it's all business as the blast beats kick in and Mortuus spews fourth war-filled anthems. Following next is the slow-tempo "The Blond Beast". Morgan's black metal tremolo picking is in top form here but the alternating bass-snare-high-hat drumming doesn't fit the song so well. Next up, "Afrika" thrusts it back into high gear as new drummer Fredrik Widigs proves that he has what it takes to be behind the skins in Marduk. "Wartheland" slows the tempo down again and has a World Funeral feel to it. The main riff in this track is one of my favorites on the album. When "Rope of Regret" kicks in, prepare to be pummeled into submission. This song is relentless all the way through and can easily be compared to another of Marduk's war-themed albums--Panzer Division Marduk.
The album continues on a relentless pace with "Between The Wolf-Packs", "Nebelwerfer", and "Falaise: Cauldron of Blood", then the 8+ minute blasphemous hymn, "Doomsday Elite", blazes through various tempos as Mortuus shines through with spoken word and ferocious vokills. "503" slows things down to almost a doom-like pace but delivers the evil just as well as any other Marduk song. Again, Mortuus adds a couple lines of regular vocals to the track, proving his versatility. Frontschwein comes to an end with "Thousand-Fold Death". Mortuus' vokill wizardry is - once again - on display as he sings at a terrifying pace, layered with mountains of blast beats and ultra fast black metal riffs.
With a recording career spanning 24 years, 13 studio albums and a handful of live albums and EP's, Marduk are still at the top of their game and continue to improve with each album. Although Marduk takes us in different musical directions and journeys with each album, Frontschwein is everything we've come to love from one of the best Black Metal bands on the planet. From vicious vocals and blazing riffs to pummeling blast beats and war themes, Frontschwein is one of the best albums in Marduk's extended catalog.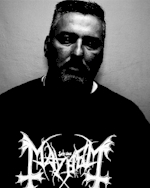 About this Writer:
David Loveless
// Dave's early introduction to Metal was listening to records by Black Sabbath and Kiss. Discovering Metallica's Master of Puppets on record at the local public library turned his world upside down. After spending nearly 24 years in Japan and expanding his love for the International underground metal scene, Dave (and family) now resides in the US. The savage brutality of Extreme Metal brings out the "Grim Gaijin" in him.
Maximum Metal Rating Legend - Click for Full Details
---
All interviews for Marduk:
| | | | |
| --- | --- | --- | --- |
| INTERVIEW | BAND | INTERVIEWER | DATE |
---
You may also like: