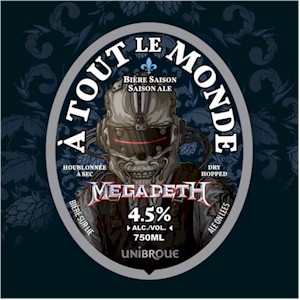 Megadeth
À Tout Le Monde
Type: CD
Company: Unibroue
Release: 2016
Genre: Thrash
Reviewer: Frank Hill
Published:12/5/2016

Low alcohol beer with a fair amount of complexity
Megadeth - À Tout Le Monde Beer
Personal Review
Appearance:
Medium golden with a cloudiness that you can't see through but does allow light to pass. Enormous, multi-finger head with some lacing.
Smell:
Yeasty with slight floral notes
Mouthfeel:
Medium carbonation that hangs for a moment with an herbal flavoring.
Taste:
Crisp finish with slight, piney aftertaste that mellows as it warms. As a drinker with a moderate-level palette, it reminds me of the various Belgian beers I've had.
Overall:
Most of the Unibroue beers I've had are well made, so your enjoyment of this one will come down to personal taste and preference. For its alcohol level, which is somewhat low for a saison, it has a fair amount of complexity and certainly wasn't made as a marketing gimmick or branding cash grab. Due to the cost, I probably wouldn't buy it as a pre-show quaff in the heavy metal parking lot; it's above that usual cheap swill. And as a metalhead, it is a nice souvenir/conversation piece. Does it befit the moniker "heavy metal beer" (does that matter)? My Megadeth aficionados say if it was one of their albums, it'd be "Cryptic Writings" or "Thirteen"--complex and slightly commercial without the anger of the early years.
--
Brewed by:
Unibroue, Quebec, Canada - unibroue.com
Style:
Saison/Farmhouse Ale
Alcohol by volume (ABV):
4.50%
Notes / Commercial Description:
Was originally called "Head Crusher" after the track on the album Endgame, but Mustaine was convinced to change the name. "À tout le Monde" means "to all the world" or "for everyone".
A new beer from Unibroue born of the friendship between its Brewmaster Jerry Vietz and Dave Mustaine, legendary lead vocalist/guitarist and founder of heavy metal group Megadeth. Named À TOUT LE MONDE as a nod to one of the band's songs and one of their biggest hits in Quebec, this beer recalls the consonance of Unibroue's flagship beer, La Fin du Monde.
Dave Mustaine became friends with Jerry Vietz during Megadeth tours in Quebec. During their time together, Dave and Jerry created À TOUT LE MONDE as a symbol of their friendship.
À TOUT LE MONDE ale is a flavorful Belgian style dry hopped golden saison with hoppy and spicy notes. Topped by an unctuous head, this beer will give fans a clean, fresh taste and a crisp dry finish inviting to take another sip.
Saison / Farmhouse Ale
Description: Saisons are sturdy farmhouse ale that was traditionally brewed in the winter, to be consumed throughout the summer months. Not so long ago it was close to being an endangered style, but over recent years there's been a massive revival; especially in the US. This is a very complex style; many are very fruity in the aroma and flavor. Look for earthy yeast tones, mild to moderate tartness. Lots of spice and with a medium bitterness. They tend to be semi-dry with many only having touch of sweetness. --
Beer Advocate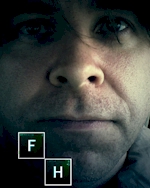 About this Writer:
Frank Hill
// Frank Hill has been at this site since its slimy, crying birth in '03. He was born on National Metal Day--11/11 and will turn his hearing aids up to 11 when he's 111. He secretly listens to a lot of old Country and Doo-Wop tunes and wants to start a cyberband with lead vocals by Robot Plant. He is still trying to figure out what Judas Priest meant by "paratamize you". If you read this, then he salutes you.
Maximum Metal Rating Legend - Click for Full Details
All reviews for Megadeth:
---
All interviews for Megadeth:
| | | | |
| --- | --- | --- | --- |
| INTERVIEW | BAND | INTERVIEWER | DATE |
---
You may also like: