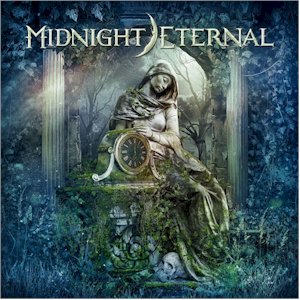 Midnight Eternal
Midnight Eternal
Type: CD
Company: Inner Wound
Release: 2016
Genre: Gothic/Symphonic
Reviewer: Greg Watson
Published:8/26/2016

A truly entertaining and fulfilling listening experience
New York's Midnight Eternal isn't a name that most metal fans are familiar with, but with their debut album that is sure to change.
Harnessing the styles of Nightwish, Delain, and Sirenia, Midnight Eternal delivers solid symphonic metal that calls to you and instills a feeling of wonderment in your soul. Lead vocalist Raine Hilai has the voice to carry the band. Her clean vocals soar and reach into the stratosphere and she has a pretty impressive range, sometimes putting in operatic vocals that are mesmerizing. The power, passion and emotion that she sings with speaks to you and draws you in allowing you to really hear and feel the music all at once. Backing vocalists Richard Fischer (doubling on guitar) and Greg Manning (doubling on bass) add some dynamism to the vocal mix and really give the listener flashes of Nightwish that work wonderfully with Raine's voice.
Musically, Fischer, Manning, drummer Daniel Prestup and keyboardist Boris Zaks put together a wonderfully composed symphony of sound. The guitars are crisp, crunchy, melodious and fiery. Fischer's solos and licks remind me of a hybrid of Malmsteen and Michael Romeo of Symphony X. Manning and Prestup deliver really solid rhythm that ties things together evenly. Zaks' tickling of the ivories lends atmosphere and additional melodies to an evolving soundscape that keeps you intrigued and invested throughout the album.
What impresses upon me each time I listen to the album is the quality of the songs and the fluidity of each track. The songs are really well orchestrated with the music and lyrics combining to form an incredibly cohesive and fascinating structure. Each song has a different feel and sound that adds freshness to the record. The production is pretty sound, though the bass and drums are a little lower in the mix than what I'd prefer. All that aside however, 'Midnight Eternal' is a hell of a debut and an album that is sure to garner the band fans and admiration around the world. I highly recommend this album if you're looking for a truly entertaining and fulfilling listening experience. Go and discover the wonder and magic of Midnight Eternal.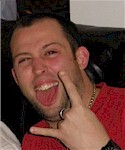 About this Writer:
Greg Watson
// Greg Watson has been hooked on the loud and heavy sounds since the summer of 1994 when he first heard the opening notes of "Operation: Mindcrime" by Queensryche. Since then his tastes have expanded and grown like the ever evolving heavy metal tree of genres. He has been an active member of Maximum Metal off and on for 10 years. In his spare time, Greg enjoys deciding the fate of his loyal subjects in the realm of Skyrim and secretly playing air keyboard to "Separate Ways" by Journey when no one is watching. He currently resides in Roanoke, VA with his wife and his metal wannabe beagle.
Maximum Metal Rating Legend - Click for Full Details
All reviews for Midnight Eternal:
---
All interviews for Midnight Eternal:
---
You may also like: