Necronomicon
Invictus

Company: Massacre Records
Release: 2012
Genre: Thrash
Reviewer: ChaosLord
Hits you straight in the face

Germany's Necronomicon have been in the thrash scene since 1983 but due to my naivete and lack of exposure, I've never heard of them before stumbling across "Invictus". For the love of metal, why haven't I heard of this band sooner?!?!
"Invictus" is a phenomenal thrash record that hits you straight in the face and has no qualms about kicking you while you are down. The album features eleven tracks of destructive, melodic thrash metal at its best. From the opening track "Invictus" to the revamped version of "Possessed by Evil", Necronomicon assaults and batters the senses with no remorse. Melodic guitars, chugging riffs, blistering solos fill this album and make you throw the horns every chance that you get.
The bass and drums on the album bring up the back end with a bombastic pace and pounding akin to a cannonade that would make the soldiers of the Civil War run in terror. The vocals are solid and at times are dripping with venom and disgust. The production is phenomenal and ties the album together nicely. Standout tracks include "Invictus", "Bloody Bastards" and "Upon Black Wings". These tracks represent the crux of this band and what they are all about.
These Germans know how to bring the noise and do so with a passion. I regret not stumbling on to this band sooner but rest assured that I am going to search for their entire back catalog. Invictus is worth spending a pretty penny on and it is a purchase that you will not regret. Go and get your copy now!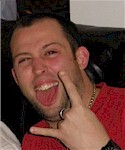 About this Writer:
Greg Watson
// Greg Watson has been hooked on the loud and heavy sounds since the summer of 1994 when he first heard the opening notes of "Operation: Mindcrime" by Queensryche. Since then his tastes have expanded and grown like the ever evolving heavy metal tree of genres. He has been an active member of Maximum Metal off and on for 10 years. In his spare time, Greg enjoys deciding the fate of his loyal subjects in the realm of Skyrim and secretly playing air keyboard to "Separate Ways" by Journey when no one is watching. He currently resides in Roanoke, VA with his wife and his metal wannabe beagle.
Maximum Metal Rating Legend - Click for Full Details
All reviews for Necronomicon:
---
All interviews for Necronomicon:
| | | | |
| --- | --- | --- | --- |
| INTERVIEW | BAND | INTERVIEWER | DATE |
---
You may also like: