Nordic Union
Nordic Union




Company: Frontiers
Release: 2016
Genre: Hard Rock
Reviewer: Eric Compton


A smooth blend

We've seen corporate bands for a number of years now. Some suit-and-tie label rep puts together reunions and supergroups off the cuff like Chickenfoot, Velvet Revolver and Audioslave. Some are good, some are foolhardy follies. But all the labels do it and Frontiers Records president Serafino Perugino does his version of it with Nordic Union. The Scandinavian duo comprises Ronnie Atkins, vocalist of Pretty Maids, with songwriter, musician and producer Erik Martensson of Eclipse and W.E.T.
With nearly 30 months without a new Pretty Maids effort it's great to hear Atkins turning up the heat with an album that isn't far removed from classics like 'Scream' and 'Anything Worth Doing...'. Opener "The War Has Begun" utilizes the big harmonized chorus pieces that are prevalent throughout the album. Driving rhythms punctuate throughout with key highlights being the riff-tastic taste of "Hypocrisy" and "When Death is Calling". Not only does Martennson provide phenomenal guitar work but also rigid bass lines that he manages to bring to the forefront with the high-treble polished production. Overall the album is a smooth blend of AOR, hard rock and umm...European power posh.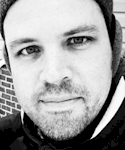 About this Writer:
Eric Compton
// Eric Compton lives in the most haunted city in the world, St. Augustine, Florida with his family and two yorkies. He has served as senior editor for MaximumMetal.com for nearly 10 years and is the author of the heavy metal book series--Denim & Letters. His reviews, interviews and social commentary has been featured on websites like Brave Words, Blabbermouth, Metal Temple, Metal Rules, Ultimate Metal, Metal Maniacs and Wikipedia.
Maximum Metal Rating Legend - Click for Full Details
All reviews for Nordic Union:
---
All interviews for Nordic Union:
| | | | |
| --- | --- | --- | --- |
| INTERVIEW | BAND | INTERVIEWER | DATE |
---
You may also like: