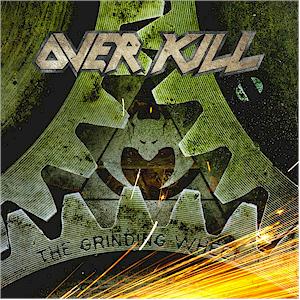 Overkill
The Grinding Wheel
Type: CD
Company: Nuclear Blast
Release: 2017
Genre: Thrash
Reviewer: Eric Compton
Published:2/15/2017

Better songs and more focus makes this the best Overkill record in years
There's a bag of hammers. Then there's Overkill's bag of hammers. In terms of heaviness, intensity and craftsmanship, Overkill has no equal and very few superiors. They are what they are, take it or leave it...or like Blitz would probably summarize--we don't care what you say, f#@k you. The New Jersey natives just continue pushing that heavy load through decade after decade. In a lot of ways, they have become Motorhead, the journeyman's band that seemingly always produced a slab of newness about every two years. Like everyone else I have that half-dozen Overkill record stack that typically helps me feel the fire when the need arises. But every so often these vets will deliver the crème de la crème. 'The Grinding Wheel' is one of THOSE albums.
The album's opener leaves you with a bit of familiarity but around the halfway point the temp slides to a slower pace and we hear the first of many album moments where Blitz is singing his ass off again. It's a conscious effort to better the vocals and the effort pays off throughout. Blitz sounds amazing on "Shine On", again halfway through he sings slower verses for the betterment of the record. There's new life on the strings too, that song in particular has some of the best leads I've heard in a long time. Check the minute mark 4:48 for exhibit A. The title track is tremendous and one of the better songs this decade from anyone. The closing moments are very European with the chanting, dare I say Accept? "Let's All Go to Hades" is fun as Hell (no pun intended) and "Come Heavy" is just a freight train of groove.
Overall 'The Grinding Wheel' is one of the better Overkill albums since 'W.F.O.'. It's certainly a career highlight and one that prolongs the band's career and destiny. I'm going 4.5 on it only because some of the songs are a little longer than necessary. With that touch up, it gets a perfect score.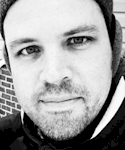 About this Writer:
Eric Compton
// Eric Compton lives in the most haunted city in the world, St. Augustine, Florida with his family and two yorkies. He has served as senior editor for MaximumMetal.com for nearly 10 years and is the author of the heavy metal book series--Denim & Letters. His reviews, interviews and social commentary has been featured on websites like Brave Words, Blabbermouth, Metal Temple, Metal Rules, Ultimate Metal, Metal Maniacs and Wikipedia.
Maximum Metal Rating Legend - Click for Full Details
All reviews for Overkill:
---
All interviews for Overkill:
---
You may also like: