Ozzy Osbourne
Scream

Company: Epic
Release: 2010
Genre: Traditional
Reviewer: EC
Ozzy's best album in nearly 20 years

The death of Ronnie James Dio a few weeks ago left me sad, confused and wondering what happens when metal's esteemed icons fall. Who replaces a powerhouse like Dio? What do we do when Biff, Lemmy and Rob leave this world, breaking the solid chains of our circle? Then Ozzy's new album fell in my lap and I thanked the Gods for what we have now, this present day, for the joy and the effort that the "ones left behind" can still convey to the listener.
"Scream" is Ozzy's best album in nearly 20 years. This is the best Ozzy I've heard since "Mr. Tinkertrain" rolled the rails back in '91. This album had quite the stormy forecast going in, complete with long time guitarist Zakk Wylde being replaced by a Greece virtuoso. Gus G (Firewind, Mystic Prophecy, Dream Evil) steps in with a unique style that doesn't necessarily incorporate the same groove punch that Zakk has utilized over five records and numerous live settings. Also, unlike previous records, Ozzy actually steps in more as a songwriter, penning all of the tracks with an assist from producer Kevin Churko. This is a big change of pace from the revolving door of songwriters and "contrived" hits that has circled the man for the last couple of decades. The end result provides enough new direction, momentum and much sought after motivation to push the heavy load and create a quality listen that has been missing for years.
Much of this album steps into a riff-tastic groove that may sound a bit like Zakk, but the songs reach further in terms of "clean" leads and speed, mostly showing off towards the middle of each track and at times changing tempo. Its as if the album's material was written for Zakk, but eventually given to Gus G to explore more with dynamics and appeal. Most of these songs change and often improve as they progress, which is extremely positive when comparing this to previous efforts. I really like the change of pace and the skills Gus G showcases as the songs move forward.
"Scream" starts with a bang with strong opener "Let It Die", a crushing riff that is both a groovy and driving force. Ozzy uses a voicebox throughout and it put a negative in my mind immediately thinking this would be a "distorted" album. The song clocks in at over six minutes and around the five minute mark the track changes pace, delivering a Black Sabbath wallop with a wicked lead. "Soul Sucker" remains one of my favorites, a song that is punctuated with one of the heaviest distorted riffs I've heard, a fat one that recalls Jerry Cantrell's riff on Alice In Chains' single "Check My Brain". This song is mammoth in delivery and changes to a fast crushing tempo that recalls fine Machine Head or Megadeth with Ozzy's voice almost a direct reflection of his prime days with Sabbath. The fast tempo verse reminds me of classic "Sabbath Bloody Sabbath". Besides vintage Sabbath this album also envelopes classic Ozzy solo material, the perfect example being the eerie "Diary Of A Madman" vibe of "Diggin' Me Down", with a great intro approach by Gus G utilizing soft acoustics behind creepy keyboards. It wouldn't be Ozzy without a ballad or two, this time around "Time" and "Life Won't Wait" playing the part. The album's second half is bone crushing heaviness in "Latimer's Mercy" and the upbeat "Fearless". The US retail version closes with the fun outro "I Love You All". iTunes provides an extra cut and there is a Jap bonus track floating around as well.
The Bottom Line - Classic Ozzy album. This is a huge surprise for fans and critics alike and shows the Prince Of Darkness in prime-time form. "Scream" is an explosive, bone-jarring return to the top and a great first impression from new guitarist Gus G.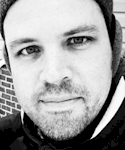 About this Writer:
Eric Compton
// Eric Compton lives in the most haunted city in the world, St. Augustine, Florida with his family and two yorkies. He has served as senior editor for MaximumMetal.com for nearly 10 years and is the author of the heavy metal book series--Denim & Letters. His reviews, interviews and social commentary has been featured on websites like Brave Words, Blabbermouth, Metal Temple, Metal Rules, Ultimate Metal, Metal Maniacs and Wikipedia.
Maximum Metal Rating Legend - Click for Full Details
All reviews for Ozzy Osbourne:
---
All interviews for Ozzy Osbourne:
---
You may also like: