Panzer
Send Them All To Hell

Company: Nuclear Blast
Release: 2014
Genre: Traditional
Reviewer: Greg Watson
Classic thrash and metal

Panzer is a super group that will have fans of German metal scrambling over each other to get their hands on "Send Them All To Hell". Comprised of Schmier of Destruction fame, guitarist Herman Frank of Accept and Victory and drummer Stefan Schwarzmann, also of Accept, Panzer deliver some classic thrash and metal on their debut release. Knowing the lineage of the band members puts some lofty ambitions on this album to be truly incredible. After sitting with this one for a while, I can say that Panzer has done just that!
Schmier's vocal delivery is as venomous as always lending some extra aggression to an album that is teeming with vicious musicality throughout. Frank turns in some of his best guitar work outside of Accept and lends the album that "Accept sound" with a bit more speed and malice but still making sure you know it's him wielding the axe. Tracks like "Death Knell", "Temple of Doom" and "Mr. Nobrain" are filled with blistering riffing, scorching solos and some damn fine guitar playing. Schwarzmann's drumming is nothing short of stellar and really fattens up the sound and provides some great melody to Frank's axework.
Having a nostalgic and modern feel all at once, this album is one you'll find yourself hailing with the horns and throwing 'em up every time you are listening to it. Standout tracks are "Panzer", "Hail and Kill" and "Bleed For Your Sins". The album overall is one that I've found myself listening to through in its entirety and never getting tired of it. With the influences the band members have, they keep things interesting and change things up so things don't get stale and so you don't feel like you're listening to another Accept or Destruction album. That variety keeps me willing to stand in the tank path of Panzer regardless of the consequences.
Fans of old school thrash or the aforementioned bands will be praising the metal gods for getting this album. And if you aren't a fan of those bands or old school metal, you still need to give this album a listen. Aggression, rage, plenty of riffs for air guitar--it doesn't get more metal than this!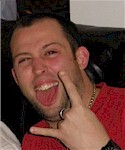 About this Writer:
Greg Watson
// Greg Watson has been hooked on the loud and heavy sounds since the summer of 1994 when he first heard the opening notes of "Operation: Mindcrime" by Queensryche. Since then his tastes have expanded and grown like the ever evolving heavy metal tree of genres. He has been an active member of Maximum Metal off and on for 10 years. In his spare time, Greg enjoys deciding the fate of his loyal subjects in the realm of Skyrim and secretly playing air keyboard to "Separate Ways" by Journey when no one is watching. He currently resides in Roanoke, VA with his wife and his metal wannabe beagle.
Maximum Metal Rating Legend - Click for Full Details
---
All interviews for Panzer:
| | | | |
| --- | --- | --- | --- |
| INTERVIEW | BAND | INTERVIEWER | DATE |
---
You may also like: