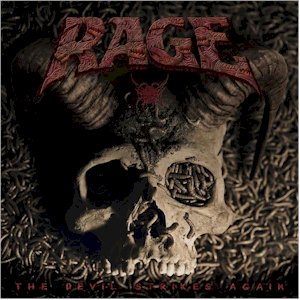 Rage
The Devil Strikes Again
Type: CD
Company: Nuclear Blast
Release: 2016
Genre: Power
Reviewer: Eric Compton
Published:7/22/2016

This record scorches the last few Rage offerings
On May 3, 2012 I summarized Rage's last album as this:
"Don't retire Peavy, but maybe Rage has used up every song title and riff imaginable and it's time for a new band/project/role in this strange universe of 2000's metal".
After the 16 year affair often referred to as "The Victor Smolski Years", these legendary Germans have returned to their roots to triumphantly welcome a return to the 90s era sound that not only reinforced the notion that Rage were key players, but it cemented the band's longevity. Since the news broke that Smolski had left the band, rumors circulated that the 'Black in Mind' line-up could return to Manni Schmidt coming back to change Rage to Refuge. While Schmidt did return briefly for some entertaining live shows, Peavy ultimately created a brand new line-up for this recent studio effort, 'The Devil Strikes Again'.
Guitarist Marcos Rodriguez follows the Tim Owens route of joining his favorite band. Rodriguez had formed his band, Soundchaser (named after the Rage album), in 2001 and met Peavy on Rage's 30th-anniversary tour. The two hit it off and Peavy eventually asked Rodriguez to join. New drummer Vassilios "Lucky" Maniatopoulos was the former drum technician for ex-Rage skinman Chris Efthimiadis and it was only natural for him to complete the three-piece. The album was recorded at Megafon Studios in Germany and Soundchaser studio in Belgium.
With the new line-up and influx of young talent, the essential questions are this; Did the devil strike twice? Could Rage recapture the energy and success of the first half of their career?
Yes. An astounding yes.
From the furious charge of the opening title track this record scorches the last few Rage offerings. This is THE Rage sound decked out to the nines with thrashing riffs and Peavy's melodic vocal lines. "The Final Curtain" recalls the band's 'Missing Link' sound with perfectly placed hooks over the mid-tempo rhythm. The chorus portion rises to the surface with Lucky's double-bass barrage. My favorites, if not the whole album, is rampant burner "War", the beefy "Dead, Dumb and Blind" and Megadeth-styled "Spirits of the Night". Oddly the album's worst offering is "My Day" which made the cut as an opening single and precursor EP.
The album comes in a variety of packages including a three- disc version with covers of Rush and Skid Row tracks along with a live set.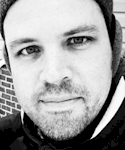 About this Writer:
Eric Compton
// Eric Compton lives in the most haunted city in the world, St. Augustine, Florida with his family and two yorkies. He has served as senior editor for MaximumMetal.com for nearly 10 years and is the author of the heavy metal book series--Denim & Letters. His reviews, interviews and social commentary has been featured on websites like Brave Words, Blabbermouth, Metal Temple, Metal Rules, Ultimate Metal, Metal Maniacs and Wikipedia.
Maximum Metal Rating Legend - Click for Full Details
---
| | | | |
| --- | --- | --- | --- |
| INTERVIEW | BAND | INTERVIEWER | DATE |
---
You may also like: