Saxon
Call To Arms

Company: EMI
Release: 2011
Genre: NWOBHM, Hard rock
Reviewer: EC
Pure raw power that is exceptional

England's blue collar NWOBHM pioneers are eternal. Record number nineteen proves that Biff and the boys have the staying power of giants, overcoming and exceeding anyone's criticism or doubts through thirty plus years. The band has been going strong for nearly a decade (I trace triumph back to 2001's "Killing Ground") and this new album weighs in as a huge surprise...Saxon may actually be getting better. Better than ever is the marking of a true champ and "Call To Arms" is indeed the anthem through invitation.
Biff throws his hand in the production job and this record sounds amazing. This is just pure raw power that is exceptional through eleven strong cuts. The band really seems to like this new offering and I swear the old bastards have found the fountain of youth. Why does Saxon and Raven in this century burn faster and more efficiently then most of your big arena names. Let's face it these guys are outliving and outshining the best of the best. The old bands like Sabbath, Judas Priest, Deep Purple and Rainbow are dwindling and Maiden and Saxon are coming off as pure genius with stamina and internal fortitude to carry the torch much longer than Energizer ever intended.
Like the new found power found on recent trio "Into The Labyrinth", "Inner Sanctum" and "Lionheart" this record is probably the best of the last four and probably just as good or better than anything found in the 80s. I can baffle the leather heads out there by stating "Power And Glory" wasn't that solid. Neither was "Wheels Of Steel" or "Denim And Leather". But now in the 21st Century I am hearing the best Saxon yet. Who can deny the addictive nature of "Hammer Of The Gods" and its damn near perfect guitar precision and technique. "Afterburner" is sheer fire brilliant in intensity, an electric tune that is similar to the faster numbers on "Inner Sanctum". The band had a helping hand on the melodic "Back In '79" by having seventy-nine fans come in and sing gang style. "Mists Of Avalon" is reminiscent of the epic "Lionheart" or "The Eagle Has Landed" and bluesy more basic choices are "Chasing The Bullet" and "Ballad Of The Working Man". Zep fans will eat up "When Doomsday Comes" and its "Kashmir" styled orchestra meets Nigel's huge percussion. The album has one fantastic title track with it's lyrical imagery marrying the album's cover, the story of a soldier recruited for battle--fitting considering Saxon's warrior-like stance through thirty years; lionhearts with heavy loads and heavy sounds...and they want you!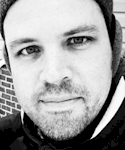 About this Writer:
Eric Compton
// Eric Compton lives in the most haunted city in the world, St. Augustine, Florida with his family and two yorkies. He has served as senior editor for MaximumMetal.com for nearly 10 years and is the author of the heavy metal book series--Denim & Letters. His reviews, interviews and social commentary has been featured on websites like Brave Words, Blabbermouth, Metal Temple, Metal Rules, Ultimate Metal, Metal Maniacs and Wikipedia.
Maximum Metal Rating Legend - Click for Full Details
---
All interviews for Saxon:
| | | | |
| --- | --- | --- | --- |
| INTERVIEW | BAND | INTERVIEWER | DATE |
---
You may also like: