Schammasch
Triangle




Company: Prosthetic
Release: 2016
Genre: Black
Reviewer: David Loveless


100+ minute epic journey

A couple of weeks ago, one of my metal comrades and I were having a nice discussion of this New Age Black Metal movement that have produced many great bands lately. Bands such as Dark Fortress, Deathspell Omega, Blut Aus Nord, Aluk Todolo, Watain, & Emperor quickly came up in this discussion. However, we both agreed that one of the bands that has adopted this "intelligent black metal" sound and are taking it to staggering new heights is Schammasch. Hailing from Basel-Stadt Switzerland, they have just released their mammoth new album, Triangle. Interestingly, their first album – Sic Lvceat Lvx – was a single disk album, their sophomore release – Contradiction – was a double disk album, so it's fitting to say that Triangle is a triple album release! I wonder if their next album will contain 4 disks!?
Anyway, before I get ahead of myself, Triangle is probably one of the best New Age Black Metal albums I've ever heard! First of all, there is never a dull moment during this 100+ minute epic journey. Of course there are plenty of brutal black metal moments, but there are also some great prog moments (check out the mesmerizing Above The Stars Of God), amazing guitar solos, clean vocals, chanting, acoustic passages, and the 3rd disk is nearly all instrumental (less the final song, The Empyrean). Although this album is spectacular from start to finish, Satori, Metanoia, Above The Stars Of God, and Conclusion (all from Disk #2) are my favorite moments from Triangle.
One thing that separates New Age Black Metal from your traditional Black Metal is the awesome production. Of course I still love old school Black Metal with the gritty (and sometimes unbearable) production, but when you have bands as talented as Schammasch, and all of the other bands previously mentioned in this review, that kind of production could never do these bands justice. Triangle is no exception, as each instrument is crystal clear and nothing is buried in the mix.
Schammasch may not be a big name in metal yet but they should be. They deserve to have their names right up there with other Black Metal giants such as Emperor & Behemoth. If you're a true fan of underground Black Metal, chances are you already know and love Schammasch. If this is your first time hearing of them, then do yourself a favor and check these guys out. They create multiple layers of metal to suit your appetite for creative and challenging music. I would be shocked if Triangle doesn't make it on a lot of "Best Metal Album of 2016" lists this year. It will definitely be on mine!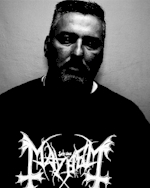 About this Writer:
David Loveless
// Dave's early introduction to Metal was listening to records by Black Sabbath and Kiss. Discovering Metallica's Master of Puppets on record at the local public library turned his world upside down. After spending nearly 24 years in Japan and expanding his love for the International underground metal scene, Dave (and family) now resides in the US. The savage brutality of Extreme Metal brings out the "Grim Gaijin" in him.
Maximum Metal Rating Legend - Click for Full Details
All reviews for Schammasch:
---
All interviews for Schammasch:
| | | | |
| --- | --- | --- | --- |
| INTERVIEW | BAND | INTERVIEWER | DATE |
---
You may also like: