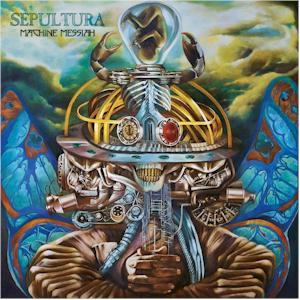 Sepultura
Machine Messiah
Type: CD
Company: Nuclear Blast
Release: 2017
Genre: Thrash
Reviewer: David Loveless
Published:2/2/2017

This Derrick Green-fronted Sepultura continues to kill it with Machine Messiah
Just mentioning the name Sepultura always brings up some type of discussion. Whether it's positive or negative, someone always has something to say. Most of the time it's "Sepultura no longer has it without Max & Igor" or that "they need to hang it up or change their name". Why don't people bring this up about sports teams? After all, team members are always changing and ALL sports teams go through periods of greatness and periods where they are terrible. Unfortunately, that's the way a lot of Sepultura fans -- or should I say, former fans -- are. However, in my opinion, Sepultra are probably at their best right now. They've released at least 5 impeccable albums in a row and their latest, Machine Messiah, is a masterpiece!
Their fourteenth studio album opens with the melancholic Machine Messiah, a change of pace for their usual balls-to-the-wall album opener. Derrick provides some awesome clean vocals to this track and although it is a bit different, it is growing on me as one of my favorite songs on the album. I Am The Enemy kicks things into high gear with a D-beat thrash attack and remains relentless from start to finish. Phantom Self starts off with some tribal beats and orchestral instrumentation before slamming into another pummeling riff. Alethea shows a bit of a progressive edge mixed with some riffs that could have been taken off of their Roots album. Iceberg Dances is another interesting track, an instrumental piece that has a classical guitar interlude buried right in the middle. Sworn Oath is a slower track but still devastating in delivery. Resistant Parasites is another mid-paced track with some tribal beat vibes, but then leads into the heavy hitting Silent Violence. Vandals Nest is an awesome throwback to 80's thrash with those patent Sepultura riffs and excellent double bass drumming. The album closer, Cyber God is another interesting track as it has both clean and thrash vocals, slow and fast parts, but remains Sepultura throughout the whole track.
I'm sure pre-Derrick Sepultura fans will continue bashing them and will deny this album as being a true Sepultra outing. However, fans of Sepultura (in general) are in for a treat, as this is one of their best albums. Don't be a hater just because Max & Igor are gone. Hell, Derrick has been the frontman for nearly 20 years now and current drummer, Eloy Casagrande, is a beast! Don't pass up this killer album.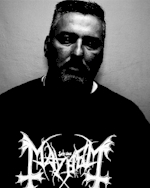 About this Writer:
David Loveless
// Dave's early introduction to Metal was listening to records by Black Sabbath and Kiss. Discovering Metallica's Master of Puppets on record at the local public library turned his world upside down. After spending nearly 24 years in Japan and expanding his love for the International underground metal scene, Dave (and family) now resides in the US. The savage brutality of Extreme Metal brings out the "Grim Gaijin" in him.
Maximum Metal Rating Legend - Click for Full Details
All reviews for Sepultura:
---
All interviews for Sepultura:
---
You may also like: