Six Feet Under
Crypt of the Devil




Company: Kscope
Release: 2015
Genre: Death
Reviewer: Greg Watson


The weakest album to date by SFU

I have been a fan of Six Feet Under since the band released "Warpath" way back in 1997. "Crypt of the Devil" is by the far the weakest album to date by SFU and certainly their weakest of the last three releases.
Vocalist Chris Barnes used to have what I considered to be "the death metal voice" for a long time. But now it seems that either vocal chord damage or father time has caught up and his voice just doesn't have the menace and ferocity it once did. His vocals now tends to lean toward the more high pitched shrieks and squeals that just don't really cut it for me and an entire album of that is just incredibly difficult to deal with. The songs have the same gore-splattered lyrics and themes, albeit with a more realistic twist as the genre dictates these days. Musically the band sounds great, with guitarist Steve Swanson sounding just as tight as he did when he first came into the fold in 1998. The drumming of Marco Pitruzzella is a welcome injection of speed and bombast that was much needed and Jeff Hewell's bass sounds like a demon belching after feasting on his share of souls. But the musical progression and solidity cannot make this album something it isn't--listenable. Although I've listened to it twice, I've not made it through without having to skip through each track after about 45-50 seconds.
For those long time fans, they may buy this album and they may like it. There's nothing wrong with staying loyal. But for those casual death metal fans and fans who want to spend their money on a good album, keep your money away from this album.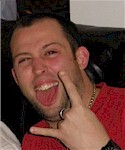 About this Writer:
Greg Watson
// Greg Watson has been hooked on the loud and heavy sounds since the summer of 1994 when he first heard the opening notes of "Operation: Mindcrime" by Queensryche. Since then his tastes have expanded and grown like the ever evolving heavy metal tree of genres. He has been an active member of Maximum Metal off and on for 10 years. In his spare time, Greg enjoys deciding the fate of his loyal subjects in the realm of Skyrim and secretly playing air keyboard to "Separate Ways" by Journey when no one is watching. He currently resides in Roanoke, VA with his wife and his metal wannabe beagle.
Maximum Metal Rating Legend - Click for Full Details
All reviews for Six Feet Under:
---
All interviews for Six Feet Under:
| | | | |
| --- | --- | --- | --- |
| INTERVIEW | BAND | INTERVIEWER | DATE |
---
You may also like: