Savage Messiah
The Fateful Dark

Company: Century Media
Release: 2014
Genre: Power thrash
Reviewer: ChaosLord
Another phenomenal offering

British power thrashers Savage Messiah are back with another phenomenal offering. "The Fateful Dark" is an album that you can really sink your teeth into and enjoy from start to finish. With incredible guitar work that has an old school sound to it, and fast, thrashy riffs there is plenty to enjoy on this release. The vocals are a great mix of raspy singing and power wails.
From the beginning of the opening track "Iconocaust", you know you're in for a special treat. With the slow, melodic intro Messiah lulls you into to a false sense of comfort before kicking it into high gear and unleashing a monster riff that kickstarts the aggression. As an opener, "Iconocaust" sets the bar very high and the band make sure to deliver as the album continues. "Live as One Already Dead" begins very somberly and soulful and then gets heavy and hard hitting. "Cross of Babylon" is a romping, epic track that really makes you feel the metal coursing through your veins. "Hellblazer" has a very Iron Maiden inspired intro with blazing, dual guitars and a great solo.
Standout tracks include "Iconocaust", "Scavengers of Mercy" and "The Fateful Dark". With their brand of power thrash clearly working, Savage Messiah have perfected their musical craft and leave other metal albums of the same ilk in "The Fateful Dark".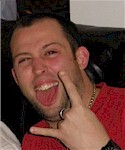 About this Writer:
Greg Watson
// Greg Watson has been hooked on the loud and heavy sounds since the summer of 1994 when he first heard the opening notes of "Operation: Mindcrime" by Queensryche. Since then his tastes have expanded and grown like the ever evolving heavy metal tree of genres. He has been an active member of Maximum Metal off and on for 10 years. In his spare time, Greg enjoys deciding the fate of his loyal subjects in the realm of Skyrim and secretly playing air keyboard to "Separate Ways" by Journey when no one is watching. He currently resides in Roanoke, VA with his wife and his metal wannabe beagle.
Maximum Metal Rating Legend - Click for Full Details
All reviews for Savage Messiah:
---
All interviews for Savage Messiah:
| | | | |
| --- | --- | --- | --- |
| INTERVIEW | BAND | INTERVIEWER | DATE |
---
You may also like: