Sophicide
Perdition Of The Sublime

Company: Willowtip Records
Release: 2012
Genre: Death
Reviewer: ChaosLord
Best death metal album I've listened to this year

Sophicide is a technical death metal band from Germany. "Perdition of the Sublime", via Willowtip Records, is the latest offering from this band. The band's name means the murder of wisdom which is interesting, given that the songs on the album are extremely well thought out and executed. What makes it more amazing is that it's one dude--Adam Laszlo.
This album from start to finish is an extremely heavy dose of technical, punishing death metal with bits of melody and ambience thrown in just to flip you out. The sound of the band is a conglomeration of Decapitated and Opeth. The technicality and brutal heaviness of the album is always present throughout. Songs like "The Art of Atrocity", "Of Lust and Vengeance" and "Execration" possess enough heaviness to blow out the best speakers you have. Yet throughout the album, Opeth-esque breaks and interludes throw you for a loop. To think, a band that can be as heavy as you can get without crossing into grindcore is capable of creating these serene, almost tranquil movements amidst the chaos and frenzy is mind blowing.
Laszlo's vocals are very reminiscent of Vader and Decapitated at times. They are not over-the-top and are well done. The big surprise for me is the length of the songs. Most death metal bands churn out 2 to 3 minute skull crushers. Well, Sophicide averages about 4 to 4:30 minutes per song and with that length being difficult to maintain interest, considering the genre, the band pulls it off flawlessly. I've listened to the album twice already and it is definitely the best death metal album I've heard this year so far.
The production is incredibly crisp and polished, pulling the album together completely. Any death metal fan, technical or otherwise, must purchase this album when it is released. This is definitely a band that has some staying power. Keep an eye on them.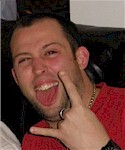 About this Writer:
Greg Watson
// Greg Watson has been hooked on the loud and heavy sounds since the summer of 1994 when he first heard the opening notes of "Operation: Mindcrime" by Queensryche. Since then his tastes have expanded and grown like the ever evolving heavy metal tree of genres. He has been an active member of Maximum Metal off and on for 10 years. In his spare time, Greg enjoys deciding the fate of his loyal subjects in the realm of Skyrim and secretly playing air keyboard to "Separate Ways" by Journey when no one is watching. He currently resides in Roanoke, VA with his wife and his metal wannabe beagle.
Maximum Metal Rating Legend - Click for Full Details
All reviews for Sophicide:
---
All interviews for Sophicide:
| | | | |
| --- | --- | --- | --- |
| INTERVIEW | BAND | INTERVIEWER | DATE |
---
You may also like: