Sky Of Rage
Sky Of Rage

Company: Metalville
Release: 2012
Genre: Traditional
Reviewer: EC
Straight-laced traditional metal

Newer label Metalville has been busy of late releasing a slew of new titles from the likes of Perzonal War, Astral Doors and brand new acts like Riotgod and Downspirit. Out of the label's roster comes a new band that surely will please traditional metal fans. Sky Of Rage is a new Swedish act that arrives by way of Astral Doors. Confused? Let me elaborate...
Current Astral Doors guitarist Joachim Nordlund teamed up with drummer Tomas Friberg for a new project that focused on traditional metal and an "old school" circuit of riffs and themes. The two put pen to paper and came up with a half dozen or more cuts before auditioning vocalists. Newcomer Tony Josefsson landed the gig and the band acquired ex-Astral Doors member Mika Itaranta as the group's bassist. The album was recorded at Nordlund's Big Turn studio with assistance from ex-Astral Doors guitarist Martin Haglund. Most of the Astral Doors catalogue was recorded at Big Turn studio and featured members Itaranta, Haglund and Nordlund. Therefore Sky Of Rage is mainly a big portion of Astral Doors history together.
Fans of Metalium, Lechery and Morgana Lefay should really enjoy this debut album. The band plays straight-laced traditional metal but in a bruising format with crystal clarity on double bass and monstrous up front riffs. Vocalist Josefsson isn't a great singer by any means but he does an okay job here as the pounding metallic riffs are just so bold and positioned high in the mix. One can hear heavy down tuned riffs burning up tracks like "Liar" and "Sacrifice", all consuming with that rigid bass line and melting pot of riffs galore. "Soldiers In A Line" is one of my favorites, the addictive groove bringing to life an emotional track about the horrors of war and oppression. Check out the rebellious "Reclaim Your Rights" for fuel to the fire classic heavy metal or the keyboard drenched "Countdown" for a slightly different foray into modern power metal.
I think a lot of bands similar to Sky Of Rage will delve into the back story of Accept for riffs. This act refuses to be complacent with German hooks. The band writes original riffs and still harkens back to Gods like Sabbath and Purple in terms of rich and developed songs. It may be slightly over produced, but I think in terms of longevity this album will stand the test of time. This is mandatory listening for any Astral Doors fan but still easily approachable for any casual metal fan. Let's hope Metalville continues developing great artists like this in the future.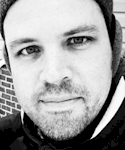 About this Writer:
Eric Compton
// Eric Compton lives in the most haunted city in the world, St. Augustine, Florida with his family and two yorkies. He has served as senior editor for MaximumMetal.com for nearly 10 years and is the author of the heavy metal book series--Denim & Letters. His reviews, interviews and social commentary has been featured on websites like Brave Words, Blabbermouth, Metal Temple, Metal Rules, Ultimate Metal, Metal Maniacs and Wikipedia.
Maximum Metal Rating Legend - Click for Full Details
All reviews for Sky Of Rage:
---
All interviews for Sky Of Rage:
| | | | |
| --- | --- | --- | --- |
| INTERVIEW | BAND | INTERVIEWER | DATE |
---
You may also like: