Steel Seal
Redemption Denied

Company: Underground Symphony
Release: 2010
Genre: Traditional
Reviewer: EC
Should gain the band some much needed critical acclaim

Upon first listen to Steel Seal I immediately found a connection with Candlemass. The stunning epic "Time Stood Still" hammered the doom and gloom vibe of those Swedish brooders. Upon further research I found that Steel Seal is led by front man Thomas Vikstrom, a short member of Candlemass in the 90s. Vikstrom provided vocals for the band's "Chapter VI" and now has been brought on to join these Italians on the second Steel Seal album to date.
"Redemption Denied" is the follow-up to the group's debut "By The Power Of Thunder" (2006). That debut featured the talented D.C. Cooper on vocals and there was some speculation that he would be taking over Steel Seal full time. With the hiring of Vikstrom it seems like a perfect fit for this band's traditional style. Once again Italy's premier metal label, Underground Symphony, provides us another top notch release in the power metal genre.
Big grooves rock the opener "Burn The Sky" and "Evening Star", both with that Martin/Dio era Sabbath sound that is just beaming with electricity. I can hear a touch of Rainbow on the dreamy "Holy Thursday" while "Victory In Black" is a great ode to traditional metal classics. For long time metal fans it is easy to identify the swooping doom riffage of Sabbath/Candlemass as a heavy influence on the band. Newer fans will find this very similar to the early Astral Doors albums with the classic approach and keyboards/organ serving as a backdrop to many of the songs.
The Bottom Line - While Steel Seal may not be a household name now with even the most dedicated of metal listeners, this album should gain the band some much needed critical acclaim. This is a fantastic album and one that really pushes into familiar territory while still remaining fresh and interesting.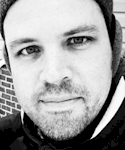 About this Writer:
Eric Compton
// Eric Compton lives in the most haunted city in the world, St. Augustine, Florida with his family and two yorkies. He has served as senior editor for MaximumMetal.com for nearly 10 years and is the author of the heavy metal book series--Denim & Letters. His reviews, interviews and social commentary has been featured on websites like Brave Words, Blabbermouth, Metal Temple, Metal Rules, Ultimate Metal, Metal Maniacs and Wikipedia.
Maximum Metal Rating Legend - Click for Full Details
All reviews for Steel Seal:
---
All interviews for Steel Seal:
| | | | |
| --- | --- | --- | --- |
| INTERVIEW | BAND | INTERVIEWER | DATE |
---
You may also like: