Soilwork
The Panic Broadcast

Company: Nuclear Blast
Release: 2010
Genre: Melodic Thrash/Death
Reviewer: Chaoslord
Pushing the envelope of their sound once again

Sweden's Soilwork is back and delivers another quality release, pushing the envelope of their sound once again. "The Panic Broadcast" is one of their most ambitious albums to date, in this writer's humble opinion. You won't find a whole mess of blast beats, frenzied fretwork or guttural vocals as on previous albums. Following the direction the band started to head in with "Natural Born Chaos", Soilwork has continued to challenge the boundaries and evolve their sound with each subsequent release.
This album also marks the return of former member Peter Wichers, most recently appearing and helping produce Warrel Dane's solo album. The band's sound on this album is very ethereal and creepy at times. Each song is different from it's predecessor and Wichers, fellow guitarist Sylvain Coudret, bassist Ola Flink, keyboardist Sven Karlsson and drummer Dirk Verbeuren feed off each other and expand on each other's sound. Wichers and Coudret combine melody, technical precision and a brutality that meld together phenomenally.
Flink, Karlsson and Verbeuren add in some atmosphere and filler with their work, adding eerie keyboard riffs, wandering and frantic bass lines and drums that go from chaotic to subdued in the blink of an eye. Rounding out the band is vocalist "Speed" Strid. Strid continues to polish his clean vocals and take you to a serene place before demolishing your dream world with a voice that would make a demon cower in fear. The songs on "Panic Broadcast" range all over the spectrum, from fast and brutal to slow and melodic.
That is something that in my opinion sets the band apart and continues to help them evolve their sound. No one album sounds the same and they continue to get better with each release. The production, as always, is spot on throughout. The only drawback I have is that I feel that a song or two was just thrown on the album to make it complete. Other than that, this is definitely a release that any metal fan would be wise to purchase.
If you are unsure of the state of metal and the direction things are going, go check this out as well. It'll give you a feel for things and bring you into the Panic Broadcast.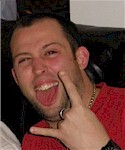 About this Writer:
Greg Watson
// Greg Watson has been hooked on the loud and heavy sounds since the summer of 1994 when he first heard the opening notes of "Operation: Mindcrime" by Queensryche. Since then his tastes have expanded and grown like the ever evolving heavy metal tree of genres. He has been an active member of Maximum Metal off and on for 10 years. In his spare time, Greg enjoys deciding the fate of his loyal subjects in the realm of Skyrim and secretly playing air keyboard to "Separate Ways" by Journey when no one is watching. He currently resides in Roanoke, VA with his wife and his metal wannabe beagle.
Maximum Metal Rating Legend - Click for Full Details
All reviews for Soilwork:
---
All interviews for Soilwork:
| | | | |
| --- | --- | --- | --- |
| INTERVIEW | BAND | INTERVIEWER | DATE |
---
You may also like: