The Defiled
Daggers

Company: Nuclear Blast
Release: 2013
Genre: Industrial, Metalcore
Reviewer: ChaosLord
Hell of an album

The Defiled' new album "Daggers". Read it, remember it. British-based metalcore band with a bit of electronic/industrial thrown in, The Defiled offer up a hell of an album with this release.
From the outset it's clear The Defiled are going straight for the throat. The opening track "Sleeper", aptly named as the synth intro gives way to a thrash-fueled riff fest. As the album hurtles onward, listeners are taken on a crazy track-by-track ride. The second track "Unspoken" is by far one of my favorite tracks on the album. This song has a monstrously anthemic chorus, a riff that has me constantly banging my head and this is just a song that I can listen to over and over again. The next to last track, "Five Minutes", provides an odd break and fascinating deviation from the heaviness. This track is dance-like and has bits of pop in it. It's damn catchy and shows the talent and variation this band possesses. Track for track this album is one I see myself listening to for years to come. With polished production, solid song writing and plenty of bangers, "Daggers" will definitely make my year end Top 10.
To wrap this up, Britain's quest for world domination has a band that is at the front of the pack, poised to be the next big thing that comes from across the pond and adds to the swelling ranks of this "British Blitz". Don't miss out on this album or you will be shunned by the metal gods.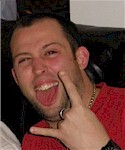 About this Writer:
Greg Watson
// Greg Watson has been hooked on the loud and heavy sounds since the summer of 1994 when he first heard the opening notes of "Operation: Mindcrime" by Queensryche. Since then his tastes have expanded and grown like the ever evolving heavy metal tree of genres. He has been an active member of Maximum Metal off and on for 10 years. In his spare time, Greg enjoys deciding the fate of his loyal subjects in the realm of Skyrim and secretly playing air keyboard to "Separate Ways" by Journey when no one is watching. He currently resides in Roanoke, VA with his wife and his metal wannabe beagle.
Maximum Metal Rating Legend - Click for Full Details
All reviews for The Defiled:
---
All interviews for The Defiled:
| | | | |
| --- | --- | --- | --- |
| INTERVIEW | BAND | INTERVIEWER | DATE |
---
You may also like: