Testament
Dark Roots of Thrash

Company: Nuclear Blast
Release: 2013
Genre:
Rating: 5
Reviewer: ChaosLord
Perfect blend of new and classic Testament

Thrash titans Testament grace the metal world with Dark Roots of Thrash, a 2 CD, 1 DVD release of a show during their Dark Roots of Earth tour. This album is the perfect blend of new and classic Testament, delivered live and with the precision and energy that only Testament provides. The 2 discs provides the listener with what it would actually feel like to be at a show but without all the bruises, sore muscles and hoarse throat. While this is great, it cannot replace seeing this band live. But it's a hell of a good way to see just what you are in store for.
Chuck Billy and company take you through 25 years of Testament on this album, delivering classics like "Disciples of the Watch", "Into the Pit" and "Over the Wall" while throwing in newer tunes like "Dark Roots of Earth", "Formation of Damnation" and "D.N.R.". The band sounds incredibly tight and shows no signs of slowing down. The guitar tone and overall quality on this release is hands down the greatest sound I've ever heard on a live release. I could go on and on about how great it sounds, how great the track list is and so on.
I'll simply end with this. Go out and buy this album before Chuck Billy himself comes to your house and beats you into the ground. For any live album fan and metal heads worldwide, you simply cannot pass this up.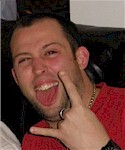 About this Writer:
Greg Watson
// Greg Watson has been hooked on the loud and heavy sounds since the summer of 1994 when he first heard the opening notes of "Operation: Mindcrime" by Queensryche. Since then his tastes have expanded and grown like the ever evolving heavy metal tree of genres. He has been an active member of Maximum Metal off and on for 10 years. In his spare time, Greg enjoys deciding the fate of his loyal subjects in the realm of Skyrim and secretly playing air keyboard to "Separate Ways" by Journey when no one is watching. He currently resides in Roanoke, VA with his wife and his metal wannabe beagle.
Maximum Metal Rating Legend - Click for Full Details
All reviews for Testament:
---
All interviews for Testament:
---
You may also like: