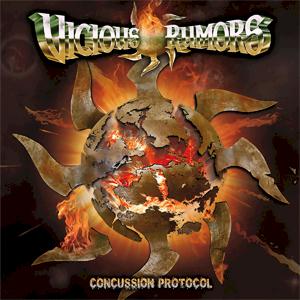 Vicious Rumors
Concussion Protocol
Type: CD
Company: SPV/Steamhammer
Release: 2016
Genre: Traditional
Reviewer: Eric Compton
Published:9/13/2016

Another top-notch effort in Vicious Rumor's stellar body of work
Record number twelve is upon us for San Francisco's highly under-rated power thrash act Vicious Rumors. Guitarist Geoff Thorpe has been running this band since it's conception in 1979, and never ceases to amaze me with the amount of hard work and determination he has for not only VR but heavy metal as a whole. When you look back a hundred years from now guys like Thorpe will be considered a support column for the genre. Other than Thorpe and longtime drummer Larry Howe…well, the rest of the band is just a revolving door of contributors.
New vocalist Nick Holleman steps in for his turn on the mic. Holleman has been performing with the band live since 2013 but 'Concussion Protocol' is his first studio effort. Guitarist Thaen Rasmussen is back, an on-again off again contributor to the band since 2005. Another newcomer joins in bassist Tilen Hudrap, who like Holleman has performed live with the band since 2013. Once again producer Juan Urteaga (Machine Head, Testament) is penned to co-produce, record, mix and master at his Trident Studios in Pacheco, CA. This particular "staff" proves to be a winning formula, making 'Concussion Protocol' one of the better records of 2016. At this rate the 2010s could very well be the best decade the band has ever experienced, punctuated by the early sales success of this album in Europe. For the first time in the band's history they landed in the top 100 in Germany and worldwide at number 35 in iTunes.
Early single "Chasing the Priest" sets the tone perfectly on what this record accomplishes. The track is a thundering double-bass cannon with Thorpe's signature fret-work balancing Holleman's mid to high vocals. That same intensity ignites songs like "Every Blessing's a Curse", "Bastards" and the album's title track. "Last of Our Kind" emphasizes the band's traditional positioning while "Take It or Leave It" and "Chemical Slave" are definitive Vicious Rumors staples that could fit any era of the band. The album's closing track "Life for a Life" is really unique and adds some lower growls to a Gothic-tinged atmosphere. The same could be said for Japanese bonus track "Death Bed Razor" with its death-like growls. Like previous records Thorpe and company ask some friends and colleagues to guest. Night Ranger guitarist and one-time VR member Brad Gillis contributes to "Last of Our Kind". Former Dragonlord/Testament axeman Steve Smyth plays on "Chemical Slaves".
Overall another top-notch effort that contributes to Vicious Rumor's stellar body of work. I'd like to see Holleman stick around as his vocals are really well-rounded and unique. Look for the band on tour in Europe with metal icon Udo in the Fall.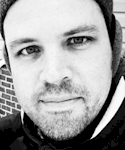 About this Writer:
Eric Compton
// Eric Compton lives in the most haunted city in the world, St. Augustine, Florida with his family and two yorkies. He has served as senior editor for MaximumMetal.com for nearly 10 years and is the author of the heavy metal book series--Denim & Letters. His reviews, interviews and social commentary has been featured on websites like Brave Words, Blabbermouth, Metal Temple, Metal Rules, Ultimate Metal, Metal Maniacs and Wikipedia.
Maximum Metal Rating Legend - Click for Full Details
All reviews for Vicious Rumors:
---
All interviews for Vicious Rumors:
| | | | |
| --- | --- | --- | --- |
| INTERVIEW | BAND | INTERVIEWER | DATE |
---
You may also like: