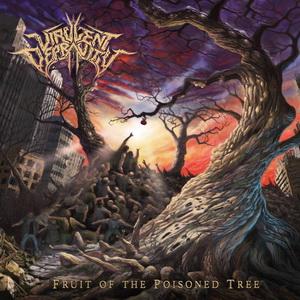 Virulent Depravity
Fruit of the Poisoned Tree
Type: CD
Company: The Artisan Era
Release: 2017
Genre: Death
Reviewer: Greg Watson
Published:3/10/2017

One of the best technical death metal albums I've heard in a long time
Virulent Depravity delivers one of the best technical death metal albums I've heard in a long time. "Fruit of the Poisoned Tree" is a blisteringly furious musical monstrosity that will bulldoze you into a pile of bone dust and splattered entrails. The vocals are top notch and have a very interesting cadence to them. The lyrics are pretty intriguing and are really well written with some meaning to them. It's definitely not your blood, guts and viscera like most death metal bands utilize.
The musical ability of Virulent Depravity is just mind bogglingly brilliant. The majority of the music is composed and created by Colin Butler who handles they guitar, bass and the vocals. What is so crazy about the music on "Fruit of the Poisoned Tree" is that the time signatures, tempo, and speed are just straight bonkers. You get these underlying riffs that have this jazzy or classical feel to them that are played with a speed and precision that just causes your jaw to stay on the floor. I have not heard anything quite like our and am amazed at the sound this band has. But it isn't about speed all of the time. There are pieces that are slowed down that possess a beauty and melody that is both enchanting and soul stirring.
The production mix really allows the highs and lows to be heard individually but also blends them together with the drums, bass and vocals seamlessly. For debuts, Virulent Depravity have set the bar ridiculously high for other bands. I didn't even know this was a debut until I was reading the bio on the band. If you like your metal complex, fast, precise, powerful and with some balls then you have got to do yourself a solid and pick up "Fruit of the Poisoned Tree" post haste. Then you will grovel in obeissance at the feet of the metal gods for getting your hands on this one.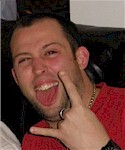 About this Writer:
Greg Watson
// Greg Watson has been hooked on the loud and heavy sounds since the summer of 1994 when he first heard the opening notes of "Operation: Mindcrime" by Queensryche. Since then his tastes have expanded and grown like the ever evolving heavy metal tree of genres. He has been an active member of Maximum Metal off and on for 10 years. In his spare time, Greg enjoys deciding the fate of his loyal subjects in the realm of Skyrim and secretly playing air keyboard to "Separate Ways" by Journey when no one is watching. He currently resides in Roanoke, VA with his wife and his metal wannabe beagle.
Maximum Metal Rating Legend - Click for Full Details
All reviews for Virulent Depravity:
---
All interviews for Virulent Depravity:
| | | | |
| --- | --- | --- | --- |
| INTERVIEW | BAND | INTERVIEWER | DATE |
---
You may also like: