Votum
Metafiction

Company: Mystic Productions/Armoury Records
Release: 2009
Genre: Progressive
Reviewer: ChaosLord
A very aural experience

Votum is a band that had slipped through the cracks for me. They are a Polish sextet that is said to be similar to Opeth. I read that and thought, man, that's a tall order to fill. I went in with a bit of trepidation not expecting much and was pleasantly surprised. Listening through this album I am blown away by the depth that Votum has. Each song is flowing and lengthy, but keeps you interested throughout. The melodies in each song are haunting and very eerie at times.
From the opening track "Falling Dreams" to the final track "December 20th", Votum delivers a very introspective and surprising CD. Now before I get into too much more detail let me state that Votum is not your typical metal in the fact that there is hardly any heavy riffing or crazy vocals going on. It's a lot of clean vocals and clean guitar tones with some atmospheric keyboards all blended together in a nice mixture of laid back, chilled out music. Singer Maciej Kosinski can really be very reminiscent of Mikael Akerfeldt at times but has his own voice that shines through. It is very emotional and moving listening to him sing.
Guitarists Adam Kaczmarek and Aleksander Salamonik do minimal guitar work but what they do provide matches the songs perfectly and they even bust out a few heavier riffs on songs like "Home" and "Stranger Than Fiction". Who would have thought that subtle would have worked so perfectly in metal. The band is rounded out by Bartek Turkowski on bass, Adam Lukaszek on drums and Zbigniew Szatkowski on keyboards. Together they tie each song together seamlessly and provide some nice filler for the laid back sounds this band creates.
The production is very crisp and allows each member to have their talents shine through and merge together in perfect harmony creating a very aural experience. This is not for the headbanging metal fan. This is a good album to spin if you're stuck inside on a rainy day, out for a drive or just having one of those days that seems pretty bad. I haven't taken this out of rotation since listening to it and don't anticipate it coming out anytime soon at all. So go out bangers and pick up something to calm the bashing that goes on and give yourself a chance to delve into "Metafiction".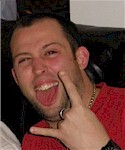 About this Writer:
Greg Watson
// Greg Watson has been hooked on the loud and heavy sounds since the summer of 1994 when he first heard the opening notes of "Operation: Mindcrime" by Queensryche. Since then his tastes have expanded and grown like the ever evolving heavy metal tree of genres. He has been an active member of Maximum Metal off and on for 10 years. In his spare time, Greg enjoys deciding the fate of his loyal subjects in the realm of Skyrim and secretly playing air keyboard to "Separate Ways" by Journey when no one is watching. He currently resides in Roanoke, VA with his wife and his metal wannabe beagle.
Maximum Metal Rating Legend - Click for Full Details
---
All interviews for Votum:
| | | | |
| --- | --- | --- | --- |
| INTERVIEW | BAND | INTERVIEWER | DATE |
---
You may also like: