Wretched
Cannibal

Company: Victory
Release: 2014
Genre: Thrash, death
Reviewer: Eric Compton
Makes death thrash vital

It is interesting and a little perplexing how far an extremity like Wretched can push for mainstream visibility. By no means is the general public ready for a Chris Barnes jingle to promote the affordability of Toyota or Pepsi, but extreme music, particularly death and hardcore, has reached abundant levels of social awareness if not acceptance. Bands like Lamb of God and Arch Enemy have made purposeful strides to open their markets significantly and those positive developments are certainly an asset for bands like Wretched.
This North Carolina act released their fourth record to date with "Cannibal" via longtime partner Victory. This type of engineered success is the byproduct of Wretched refusing to bend a knee to create yet another derelict death metal entry. Instead the band's expeditious efforts to bridge the gap seamlessly between death and thrash is commendable and fruitful considering how proficient "Cannibal" really is.
This album comprises a diverse selection of songs that run rampant with energy and expression and often benefit from the amorphous nature of the arrangements. Opener "Gold Above Me" is a venomous introduction that clocks in at less than a minute and a half. That short selection morphs into "Morsel" and the first inklings of thrash-based riffs. Hyper-blast rhythms and vocalist Adam Cody's scathing guttural performance elevates quicker cuts like "Calloused" and "Cranial Infestation". The 90-isms of low tuned death is prominent on "Thin Skinned" while "Salt Licked" and "Wetico" recall early traces of Deceased (notably the "Blueprints for Madness" album). While these songs are invective the band pays careful attention to melody and tempo changes to counter the assailment. The title track is a soothing instrumental over seven minutes long. The same can be said for the haunting aesthetics of "L'appel du Vide" and the album's fleeting melodic moments of "Engulfed in Lethargy".
Forty-four years removed from those Birmingham Brits' self-title, bands like Wretched are still creating intelligent work that pushes the boundaries of what we accept and know. From Megadeth to Morbid Angel, this band hones in on the special skill set to combine death and thrash into one virtuous assembly. This is permeated with melody and bloated with energy and enthusiasm. Wretched makes death thrash vital and relevant and pushes the boundaries of mainstream acceptance through hard work and dedication. What Lamb of God did in the 00s should be the mile marker for Wretched to surpass.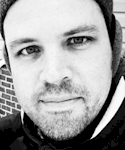 About this Writer:
Eric Compton
// Eric Compton lives in the most haunted city in the world, St. Augustine, Florida with his family and two yorkies. He has served as senior editor for MaximumMetal.com for nearly 10 years and is the author of the heavy metal book series--Denim & Letters. His reviews, interviews and social commentary has been featured on websites like Brave Words, Blabbermouth, Metal Temple, Metal Rules, Ultimate Metal, Metal Maniacs and Wikipedia.
Maximum Metal Rating Legend - Click for Full Details
All reviews for Wretched:
---
All interviews for Wretched:
| | | | |
| --- | --- | --- | --- |
| INTERVIEW | BAND | INTERVIEWER | DATE |
---
You may also like: