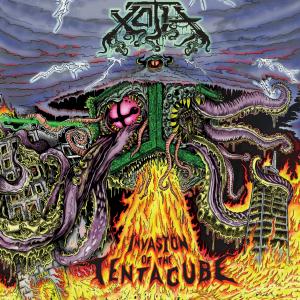 Xoth
Invasion of the Tentacube
Type: CD
Company: Creature of the Northwest
Release: 2016
Genre: Death
Reviewer: Greg Watson
Published:1/12/2017

A maniacal marvelous metal ride
Seattle's Xoth is a band with a sound that is just mind boggling. Part Primus, part Maiden, part Florida death metal and lots of fun, "Invasion of the Tentacube" is a maniacal roller coaster ride of time signatures, tasty riffs, lots of colorful lyrics and all around fun.
Tracks like "Tentacles of Terror" and the title track have these funky bass lines and serious riffs mixed with snarled vocals. The bass guitar on this album is just nuts. You get these Les Claypool sounding bass riffs that combine an element of Bootsy Collins with lots of fuzz and beef to it. The guitars have this great dual melody quality to them and have plenty of riffs to satiate the great Lord Cthulhu himself. Tyler Splurgis, guitarist and lead vocalist, delivers some really venomous vocals that are backed by second guitarist and vocalist Woody Adler's well-timed death grunts. The band have done a terrific job of melding melody and aggression together in a way that each compliments the other.
The production on this album is really solid and allows for each element to be heard both individually and as a cohesive unit. The Lovecraftian and sci-fi elements really give the album a cool atmosphere and provides some really great lyrics to add to the wonderment of the album as a whole. As a debut album, I really am impressed at what Xoth has brought to the table and look forward to seeing how the band continue on.
May the Great Old Ones continue to smile down on Xoth and bring R'lyeh to the surface once again.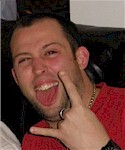 About this Writer:
Greg Watson
// Greg Watson has been hooked on the loud and heavy sounds since the summer of 1994 when he first heard the opening notes of "Operation: Mindcrime" by Queensryche. Since then his tastes have expanded and grown like the ever evolving heavy metal tree of genres. He has been an active member of Maximum Metal off and on for 10 years. In his spare time, Greg enjoys deciding the fate of his loyal subjects in the realm of Skyrim and secretly playing air keyboard to "Separate Ways" by Journey when no one is watching. He currently resides in Roanoke, VA with his wife and his metal wannabe beagle.
Maximum Metal Rating Legend - Click for Full Details
---
| | | | |
| --- | --- | --- | --- |
| INTERVIEW | BAND | INTERVIEWER | DATE |
---
You may also like: