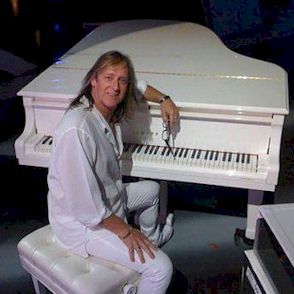 On a thick, hot night, sixty-three stories above the junkies, flunkies, floozies, and tourists of Vegas, the stars are shining brighter inside than outside.

Surrounded by the petite and elite, the centerpiece of this rock feast is a 5-piece outfit that looks, moves, and sounds like a cover story, but enjoys merely an honorable mention. No stranger to sharing stages with legends, Jet Velocity and guests are owning the floor. Their dynamic frontman, Jason Ebs, strikes lightning into the room as Les Warner (The Cult) and Mikey Bones (Johnny Thunder, Kaiser) shake down Olympus, enhanced by vocal shamaness, Janea Chadwick-Ebsworth, with her elegance and strength, to create the perfect storm. Though the set list consists mainly of staple rock classics, such as "Life in the Fast Lane" (The Eagles) and "Here I Go Again" (Whitesnake), they tore the house down with Ozzy's, "Crazy Train" and did better justice to KISS than KISS. Every now and again, they invited a special guest to stand in, take the mic or an axe, such as Oz Fox (Stryper) or Scott Griffin (LA Guns), and every time, they yielded with such grace and class not seen in decades -- so desperately absent and so desperately needed, in a much colder, competitive industry today, it was worth the witness in and of itself.



"Music used to be big – remember those huge stereo systems and those big speaker towers? They were their own pieces of furniture!"


At one point they announced they were going to perform "the most popular song of the century," but it wasn't "Happy Birthday." Turned out to be "Don't Stop Believing," with guest vocalist, Claudette Scirri, who sang the shit out of it. The Jet Velocity "Rock Jam" at Mandalay Bay was alive with sweet thunder; the best of everything of what reminds us as to why we prefer to keep it loud.

But, in the corner, between the glass balcony and the drums, stands the idyllic picture of a classic rock veteran, working the keyboards with the ease of Bernstein and the fury of Frankenstein. Standing tall as a figure who has seen the world, but no longer carries the weight of it upon his shoulders, Gregg Fox is at home here among the rockers, just as he is among the many other swingers and the stingers. "Gun for hire," Fox has made a name for himself through other names from other names -- sharing the stage, but never the spotlight – with the likes of Heart, Asia, Bad Company, Billy Idol, Slash, Queensryche, Quiet Riot, Alice Cooper, Toto, Yes, Pantera, AC/DC, Michael Schenker Group, Iron Maiden, Ozzy Osbourne, just to name a few. And though his many, many mercenary meanderings have allowed him to make a 30-year life-long career for himself after achieving a prestigious music degree, he realized it is time to for the wizard to come out from behind the curtain. Now, today, with his own project, The Renaissance Rock Orchestra, he is shining his own light and sharing the sky, though it's taken him a while to get here.

"As a professional, I had no choice," he states sagely. "It was always my job to make sure things were done the right way, solve other people's problems, resolve other people's issues in spite of my own – which is okay! I'm happy to do it. I'm glad to do it! But, with a day job, touring, [home life], and composing and recording, it's a lot."

Fox relates a tremendous life journey, not in a simplistic, calculated, chronological order, but in vivacious clumps of projects, time frames, and epiphanies. One interesting point he made with clear absolution is that unlike most of the world's rebel artists, his childhood was a very happy one. "I have supportive, loving parents who gave me a wonderful home growing up. I was incredibly fortunate that I came from a very musical family – I was classically trained on the piano at the age of 5, I sang in the church choir, which was all very much a family affair." So, naturally, one would figure that if their baby boy came to them and said, "Mommy, Daddy, I want to grow up to be a rock star," they would have embraced the notion, right? He laughed. "Quite the contrary. They expected me to be a preacher." Though his faith remains in-tact, the cathartic seduction of Zeppelin, Beatles, and especially, Yes (for what self-respecting keyboardist in the world wouldn't put Rick Wakeman on a pedestal?) was too great and he became such an insufferable rock-nerd "elitist" who just simply could not understand how everyone around him in the land of disco fever didn't "get it." Though he's put on his big-boy panties since then, he now finds himself at a loss of not only how the industry has morphed, but music, itself.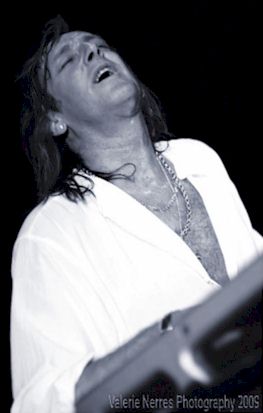 "I find that people have lost touch with a sense of melody," he explains. "We've come to a point where music in the last decade where we think of music as a series of loops and programming. Though, I wouldn't quite say it reached an age of 'recycling', the industry has changed enormously. Children are trained that music has no value. It's been degraded with the use of the computer and Napster's free downloading had an enormous impact. People don't buy music as much anymore when they can Spotify."

"Music went from quality to quantity," he continues. "Music used to be big – remember those huge stereo systems and those big speaker towers? They were their own pieces of furniture! And we had vinyl with that big, warm sound, which shrank to CDs and now are squished into little MP3s. When we're physically holding these small little songs, there is a sense of displacement. It's like condensing the power of the Sun into a fluorescent light bulb."

But as the music changed, he remained steadfast. Though he had surrendered the music life at one point (for love, of course), sailing around the Bahamas in a dream world, he left behind a trail of success stories behind. Two of the more notable included Superhero, a Phoenix-based all-cover band where he had found one of his long-time partners in crime, killer bassist, Mikey Bones and the Moby Dicks, an all-star Zeppelin tribute with Vinny Appice and Michael Devin. However it was a raging squall on the high seas that woke up the tempest within. And from a strange invitation from Foreigner to tour with them, he returned to the ivories. Hitting the clubs with a vengeance through the 70's and 80's, the word got around of who this Gregg Fox guy was. But, between it all, he did his best to satisfy that inherent need to compose and express his own vision. More recently, though he has found staple success touring with the legendary Louie Prima, Jr. band (remember "Jungle Book" and King Louie? That's his dad) and a very honorable performance at NAMM 2013 for the "Living Legends" concert series with Alan White (Yes), Robin McAuley (McAuley Schenker Group- Survivor), John Payne (Asia), Frankie Banali ( Quiet Riot), Richie Castillano & Jules Radino ( Blue Oyster Cult) and Nicko McBrain (Iron Maiden), he still has remained true and unwavering in his principles as an artist.

Both struggling with and embracing his musical versatility, it wasn't until he experienced a Trans-Siberian Orchestra show that the light switched on. "I saw people of all races and ages from kids to the elderly, just everyone brought together under one roof, completely immersed, on common ground through classical and I thought…I can do that! I want to do that. I was trained for this!"

So, Renaissance Rock Orchestra was born, paying homage to the bad boys of the 1700's and Fox's roots. Recruiting the talents of Robin McAuley, Mikey Bones, Vinnie Castaldo, and guitar legend, George Lynch among many others, their first crowd-funded release, "The White Gate Trilogy," marks a turning point not only in Fox's life and career, but also creates a musical refuge, a sound sanctuary for his guests. Its first single, "J.S. Rock", is already creating a buzz and a drool on the open market and inner circles. Though the music is richly produced and performed, it is merely a preliminary effort for what is to come and the obvious question has been answered:

"TSO is seasonal. RRO will have unlimited access and be all year around," he illustrates. "The other is that the music will be centered around the keyboards – I remember for years I couldn't get gigs because keyboardists weren't considered 'cool' for rock acts or can't be rock stars, especially after Van Halen started using them. They were considered more pop instrument than rock. But this will be a platform where I envision a new frontier." He pauses to make a complimentary note of Jordan Rudess' work in Dream Theater, "Though I absolutely love what he's done! It's so inspiring." He continues, "My history with legendary players helped me develop a formula and inspired a vision to bring these rock star talents a stage with a new medium that can continue and grow and renew. There is a curse and a blessing, though. On the one hand, it's a big project. It's the nature of what it is. It will be live performance reliant and being what it is, it has to be performed on a large scale. Hopefully, we'll be able to tour the European festival circuit this summer, but right now things just need to play out."

"It's wild because now, I am composing every night. It's just amazing how I'm just able to channel and connect completely with the music. It feels…divine. I can't describe it, it's incredible."

"The biggest difference is Renaissance Rock Orchestra is me. This is my retirement plan. It's everything I've always been and encompasses all I've done. This is my time. I feel it."

LINKS:
www.greggfox.com
https://www.facebook.com/GreggFoxTheKeyboardist
www.renaissancerockorchestra.com
https://www.facebook.com/renaissancerockorchestra

PURCHASE:
iTunes - The White Gate Trilogy EP
Amazon - The White Gate Trilogy EP